Ski day 43 at Blanche Takayama/Echo Valley
I used to come here very often long time ago.
Season Day 43, Powder 35 days, Backcountry 13 days, Telemark 4 days
Blanche Takayama 9:00-11:30
Gear:HEAD i.Supershape Magnum
I had a business trip in Yamanashi and decided to come Blanche Takayama and Echo Valley, as they are not far.
But I found it takes only 2 hours from Hakuba. Eventually I came to Hakuba.
Leaving Hakuba at 6:45. Hakuba area did not have clear views. I probably made a right decision.
Arriving at Blanche Takayama in 2 hours, as planned.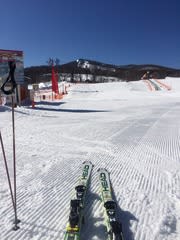 This place reminds me a lot.
Back in over twenty years I came here a lot. My skiing skills were trained here.
I got a long boring access lift.
Blanche Takayama has a rake shape with a long access lift and moderate slopes in fan shape beyond the lift. There is a convenient parking lot up there, but I wanted to ride on this very lift as well.
This view reminds me a lot.
And going further up.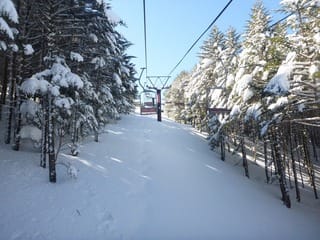 This chair lift through the forest also reminds me.
I could see Mt. Fuji from the top.
Echo valley is just in front of me, and Kurumayama ski resort beyond Echo valley.
And Northern Alps peaks.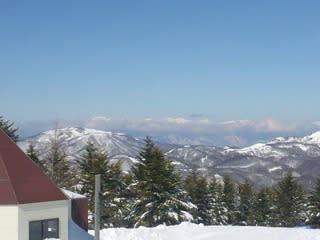 I could see Mt. Hotaka and Mt. Yari, which are not clear in this photo.
This slope was very tough for me at the time.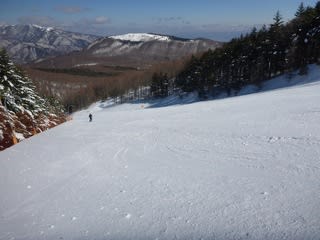 And this slope also.
Today it is too easy.
I really enjoyed skiing there with my old good memories.
Finished at 11:30, with some regrets,
but not worth to ski in a whole day.
Then I came to Echo Valley, next to Blanche.
Echo Valley 12:00-14:10
I also came here often.
I used to fall down a lot and cry on this slope.
Now it looks not so much.
It is a shame that this slope was closed due to the bad condition.
I wish to revenge here.
Going further to the end.
Blanche Takayama is beyond the ridge line.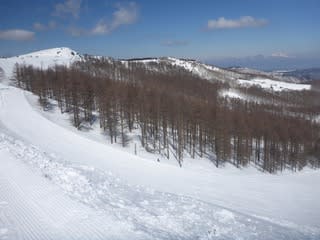 And Kurumayama is located in the opposite side.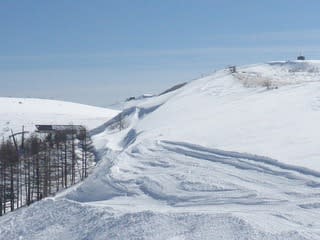 All three resorts are very close.
I thought it would be a great resort if these are connected, but have not been realized yet.
The terrain out of the courses were really crusty.
Echo valley does not have various courses,
and I finished in two hours, but those two resorts reminded me with great old memories. Nice to be here.