Ski day 34 at HappoOne
The most evil behavior, a powder riding in weekday. I could manage my work to come here.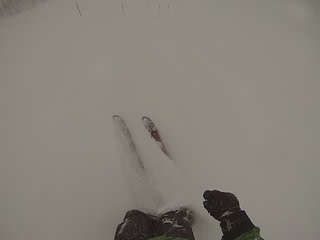 34th day for this ski season, 30 days for powder, 12 days for backcountry, telemark for 3 days
HappoOne 8:20-10:45
Gear:
BanYa
M1102+SCARPA FREEDOM
Official Snow fall 30cm, Sarukura 6H 21cm
I woke up to check the snow fall in Charmant, but it did not seem so much. Today I should chose Happo.
The snow fall in the village was relatively good.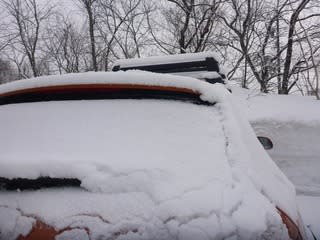 The gondola lift did not have so many guest because of weekdays, or less snow fall?
On Alpen quad I talked with the person next to me, "the depth looks 20cm or so", or "not so much snow", like negative conversations.
But the reality was much better than we expected.
I got the first run on Tanuki, or Sodeguro.
I was afraid to hit the bottom or be bumped and I had to slow down for the first run.
I realized I didn't and then I aggressively went down for the second run on the best powder snow.
Then I moved to Kurobishi and Skyline.
Especially on the steep slow in Skyline, I heard the sound that one of my nerves got broken in my brain. I got mad.
The powder has gone quickly even in a weekday.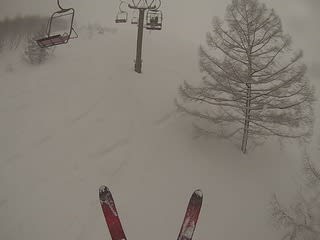 After 2 hours joyful runs I got a coffee break.
I went home through bumpy Tatekko.
Even for three hours parking,
I got 5cm snow depth on my car.
I expected a worthless run in Happo and attempted to Charmant in the afternoon, but I did not have to do so.
I went to Sounds Like Cafe for lunch with the weekday-advantage, but it was already crowded.
I could somehow have a seat.
I tended to finish today's ride but,
I came here for the second round.
HappoOne 14:55-16:15
I loaded myself on the lift,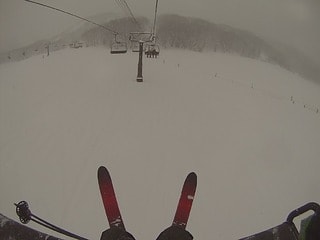 but the terrains looked done already. I almost regret to come back.
Skyline also looked done.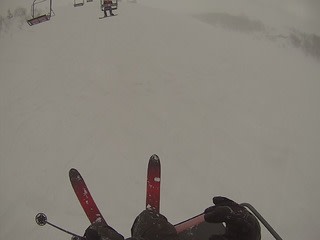 But my favorite course was really good, although it was not the virgin slope.
I enjoyed until the lift ends.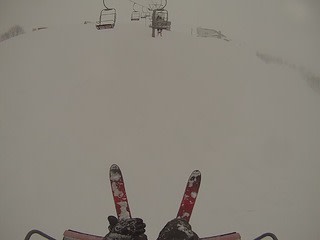 I really enjoyed even in a short time.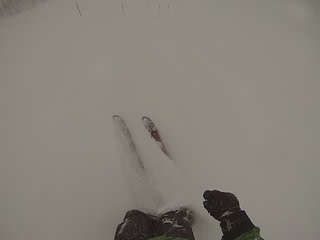 I realized another 5cm snow fall on my car.
I really enjoyed the double "evil" runs in weekday.