Ski day 33 at HappoOne
I got up late and came to Happo One.
33rd day for this ski season, 29 days for powder, 12 days for backcountry, telemark for 3 days
HappoOne 11:05-13:00
Gear:
BanYa
M1102+SCARPA FREEDOM
Official Snow fall -cm, Sarukura 6H -cm
The lower lifts had long waiting cues and the visibility was poor, which discouraged me.
Today I rode on telemarking.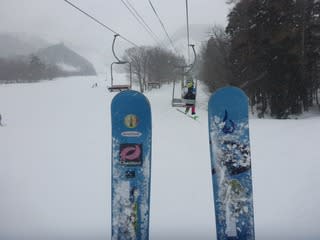 This is the third time in this season.
I came up to Skyline, but
The visibility was poor like this.
I had almost finished skiing in my mind.
Coffee break at the lounge. I read a morning paper as my regular manner.
I went up on Panorama for the additional run, but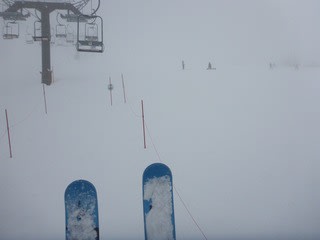 I regret coming here.
All inbound highways were closed due to thick fog on my way home.
Last year I had to leave my car twice due to the heavy snow, and the flight from Philippines was delayed due to the snow last week.
The bad weather may bring some troubles every year. I would rather stay in Hakuba for a few weeks during such a bad weather.