Ski day 21 at Urahiyo
A lazy weekday.
21st day for this ski season, 19 days for powder, 8 days for backcountry, telemark for 2 days
Urahiyo 9:15-11:55
Gear:
BanYa
M1102+SCARPA FREEDOM
A usual Japanese is supposed to start working today but I got a day off due to my business schedule.
Last night it was snowing a lot, which excited us, but
We woke up and found the depth was not so much.
We went to HappoOne but the bumps were not covered at all.
Then we decided to go to Mt. Hiyodori.
Started at 9:15, 30 minutes later than usual.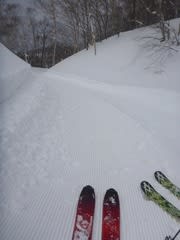 Today the weather is good but it is getting hot. We worried about the snow conditions.
The old trail remained and helped us to climb.
We arrived at the ridge line and saw the north face.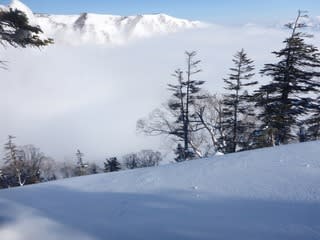 This side looks good, but
We tried the south face first, which can become worse quickly.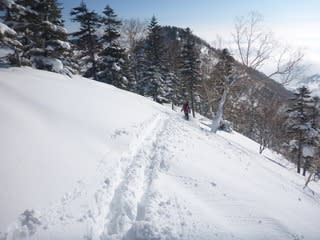 We got it in time.
We climbed up and now we try the north face.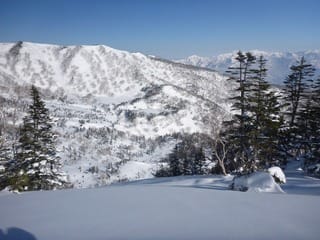 Awesome powder. The clear sky helped exciting running.
The temperature goes up quickly.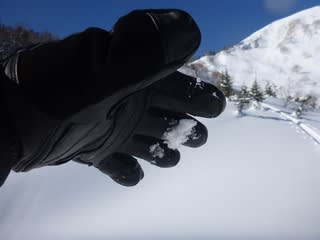 The snow flakes stuck on my grove and did not fall.
We came back to the ridge line.
The view of Tsugaike hut and Mt. Shirouma looks like Europe.
The condition was getting worse and there seems no use to go down onto the north face again.
Now we finish and go back on the south face.
We chose the lines very carefully and could manage avoiding the bad snow.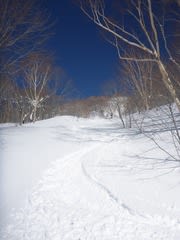 The base area looks like the spring time.
The weather will be worse tomorrow. It can be rain or snow, that is the turning point for the whole conditions.