Ski day 3 at Tateyama
Fully enjoyed powder runs in a short time.
3rd day for this ski season, 3 days for powder, 3 days for backcountry, telemark for 0 days
Tateyama 10:40-14:10
Gear: Teneighty GUN+SCARPA FREEDOM
We wanted skiing in Hakuba in this weekend but the ski resorts did not open.
Then we decided to go to Tateyama again. All huts are full, and we go for a day trip.
Leaving Hakuba at 5:30 for Hakuba.
Tateyama station.
We arrived at 8 am, but there was already a long cue for ticketing.
The cable car we could get was at 9am.
We have to accept this situation, which should be much better than Ougisawa, while we could park our car.
Arrived at 10:20 at Murodo.
It was pretty crowded with people from Tateyama and Ougisawa as well. It is much different from the last week.
Good weather, but it is warm today.
We are afraid of the snow condition. It should be melt soon.
We went straight to the mountain without stopping by.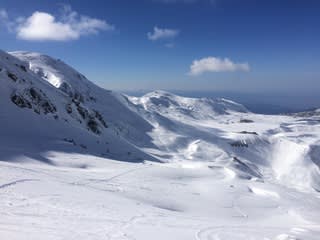 Just under the glacier.
Now here we go.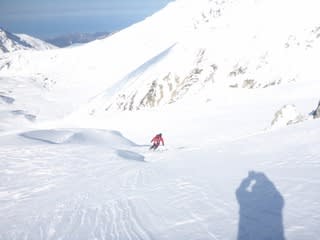 The terrain was a little hard, but it was excellent enough.
Keep going.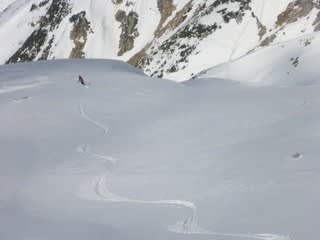 We arrived in Tateyama late, but we could get the run while the other skiers were dropping stuff for staying.
I hit a hidden obstacle in the valley,
while We did not hit last week.
Went down to the bottom and climbed up again.
We came up to the same dropping point.
We tried the different valley.
It was not virgin, but we could enjoyed the deep powder.
Although it was a short time, we fully enjoyed.
We finish here as the condition became worse.
The camp site at Raichozawa looks very busy today.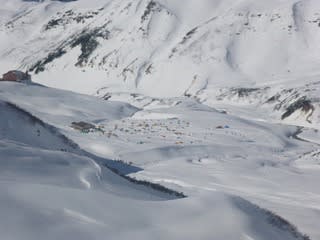 Looking back at the mountain.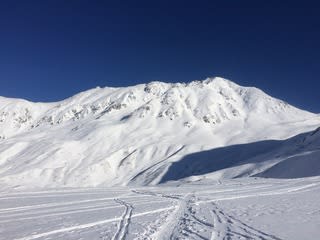 We realized there was no place left to ski.
It is too early, but all terrains have already been finished due to the national holidays.
Eventually we were lucky that we could not book the accommodation.
Tateyama Station.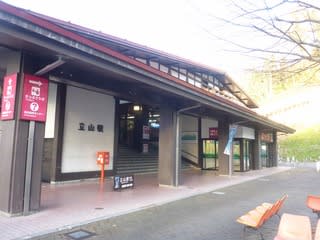 We don't believe the bustle in the morning.