Trekking-Day 9-Baba-Dani Onsen Spa-Sarukura(16.5km)
Beyond the Hakuba ridge from Baba-Dani Onsen spa to Hakuba village.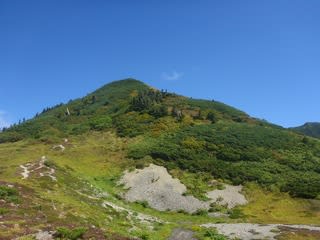 Day 9 Dani Onsen Spa-Sarukura 5:33-17:46
Distance today 16.5km, climb 2,020m, duration 12:11, avg speed 1.4km/h, burned 1,214kcal
Today's route
Continued from
Trekking-Day 8-Mt.Karamatsu and Baba-Dani Onsen Spa(16.4km)
CAUTION! The duration in this article is due to my experiences and physical strength, and much shorter than the standard course time. Please plan by yourself considering your own experiences and physical strength when you plan to walk the course.
On the second day it would be a good idea to ride on
Kurobe Gorge train
on the way back. The station is 30 minutes walk from the Onsen, and it goes to Uozu city, along the Japan Sea.
But the hut master told me it would take a half day to Hakuba, and I would be arrive in later afternoon. Sounds like same time on my food.
Then I decided to walk back to Hakuba.
The route on the way back is from Baba-Dani Onsen spa through Mt. Shozu, Mt. Shirouma to Sarukura.
I woke up 5am and packed my tent.
Started walking at 5:30.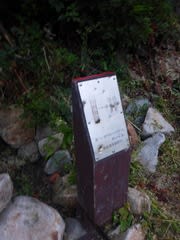 A long long walk has begun.
Steam of the spa.
It comes from the river.
Hakuba mountains are far far away.
It makes me depressed.
Walking through the forest.
The trail was not so comfortable. It was hot and no wind.
Good to see such nice views several times.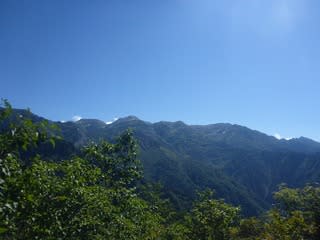 Interesting to see Hakuba mountains from backside.
Arrived at Kaerazu emergency hut in 4 hours and half, 30 minutes earlier than the standard duration. I realize this trail is not easy at all.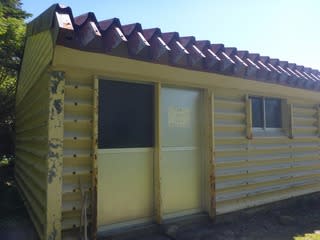 Water supply is available here.
The view became open after a while.
Baba-Dani Onsen is far down.
At 11:10 approached to Shozu ridge.
The bushes and grasses were colored.
Heading to Mt. Shozu.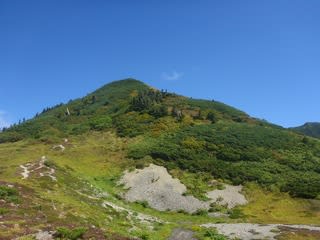 I like this atmosphere.
Arrived at Mt. Shozu at 12:22, in 6 hours 50 minutes, while the standard duration is 7 hours half.
Slow pace.
I climbed 1800m high so far. The air became cold.
Baba-Dani is far far down.
I remember I saw this mountain in the morning. Nice to reach here.
I thought Mt. Hakuba would be close after Mt. Shozu, but it is still far.
The snow remained on the back bowl of Mt. Asahi.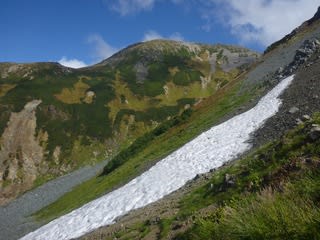 I remember I skied down here about 10 years ago. At the time I was a beginner and I did not know the mountains.
Looking back at the ridge lines I walked on.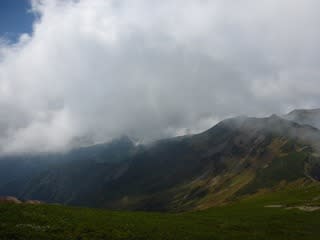 It was a long long trail.
At 14:00 I reached to the Hakuba side after Mt. Asahi, and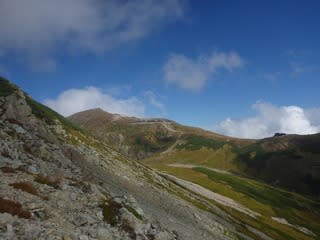 I realized Mt. Hakuba is far far away. I was very shocked.
I would rather go to Mt. Hakuba if the time would permit, but it seems impossible.
The last ascending for today.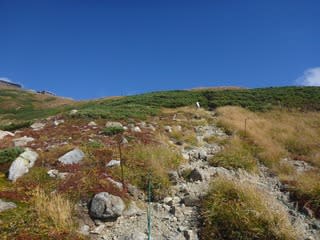 Finally arrived to the cross point just under Mt. Shirouma at 14:30. It was just 30 minutes earlier than the standard duration in 9 hours 30 minutes.
Shirouma hut is just in front of me, but I had no energy to go.
And I did not have much time to go down.
Now I start descending to Sarukura.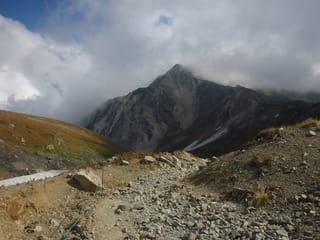 Good to see the view of Mt. Shakushi.
The bushes are colored.
I had no energy to climb up but the descending was not too bad.
Putting crampons at Daisekkei (Large Snow Valley).
Arriving at Hakuba-jiri hut at 17:05.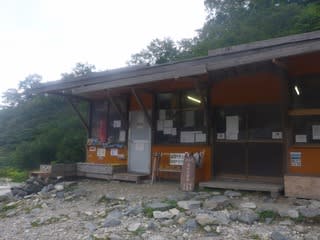 And finally I reached to the goal, Sarukura hut at 17:46.
12 hours walk, ascending in 2000m and descending in 1600m from Baba-Dani Onsen spa.
I walked about 35km, ascending in 3400m and descending 3700m in two days.
I totally exhausted. The view at Shozu ridge line was beautiful, one trial is enough.