Trekking-Day 8-Mt.Karamatsu and Baba-Dani Onsen Spa(16.4km)
A long long trail from Mt. Karamatsu to Baba-Dani Onsen spa, 12km distance, 1900m descending.
Day 8 Mt.Karamatsu and Baba-Dani Onsen Spa 5:11-14:34
Distance today 16.4km, climb 1,416m, duration 5:55, avg speed 2.8km/h, burned 1,035kcal
Today's route
CAUTION! The duration in this article is due to my experiences and physical strength, and much shorter than the standard course time. Please plan by yourself considering your own experiences and physical strength when you plan to walk the course.
I was studying this course, a down trail to Baba-Dani Onsen spa, on the other side of Hakuba mountains. I decided to go in this weekend as two sunny days were expected.
A standard duration is 8 hours 30 minutes, and early departure is strongly recommended.
My usual trail to Mt. Karamatsu with chair lifts leads me to the peak around 10am.
If I walk in the standard duration, the arrival will be in the dark time.
Then I woke up 4:30am, and immediately leave my condo. It was still dark.
I parked my car at Kurobishi, and started walking at 5:11.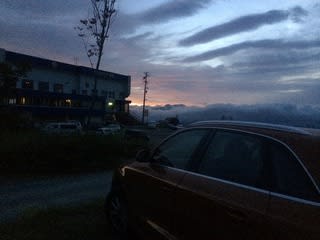 The East sky was getting lighter. I could walk without a headlamp.
The chairlift is closed at this time. I had to walk from Kurobishi.
In 40 minutes I arrived at Happo-ike hut, where we usually start.
Usually it takes 40 minutes for the waiting cue, or ticketing cue even though we use the lifts.
To Happo-ike lake it took 30 minutes. I had to carry a tent and other staying stuff, which slows down.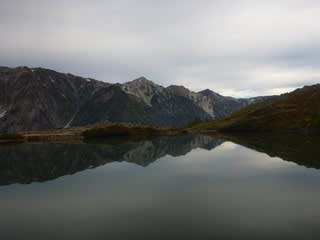 Hakuba summits and their reflection on the lake. Lights were not perfect.
Caution! A bear is found around here.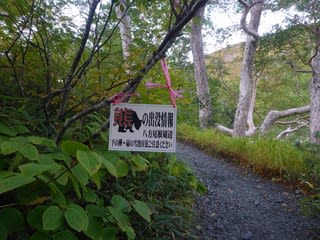 This time I walk alone and I was afraid of bears.
I did not see any, fortunately.
Ougi snow valley. 1 hour 10 minutes so far. It is slower then usual.
I saw a young ptarmigan.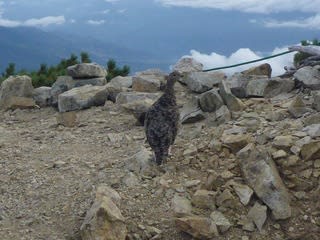 It was running from me but it cannot fly yet.
I arrived in Karamatsu hut in 2 hours.
And I went to the peak. It took 2 hours 10 minutes.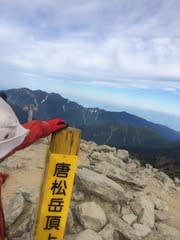 Beautiful clouds sea.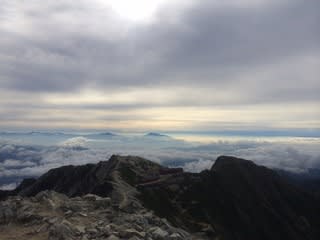 Mt. Tsurugi. I will be heading to this direction.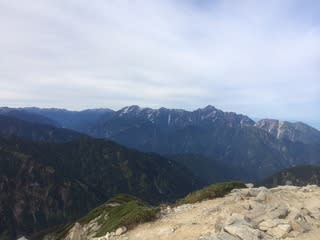 I consulted with the hut master about the trail.
I was nervous the master would say 8:30 would be too late, but he didn't.
He kindly advised some tips for the trail
Now I started descending at 8:26.
I go down to the camp site. The trail goes far along the slope.
A supporting chain.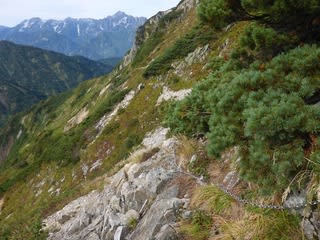 The trail was not so difficult but the lower is a cliff, and I had to go down carefully.
The trails were narrow in this part.
I am afraid of heights, and I felt very nervous.
Entering to the forest and the trail became milder.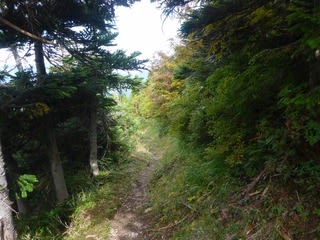 Looks like a MTB trail, but it should be extremely difficult to carry a bike here.
After descending in 800m, I reached to a bottom.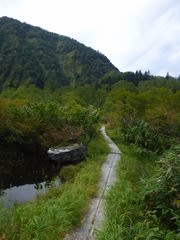 Now I have to ascend.
After a short walk I reached to Daikoku Copper Mine (vacant). I arrived in 1 hour 30 minutes, a little earlier than 1 hour 40 minutes, the standard duration.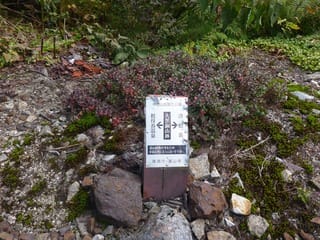 Is this slag heap?
It is surprising that the mine was built here.
After the mine I ascend to Mt. Gaki again.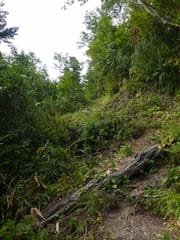 A view of Mt. Karamatsu and Kaerazu peaks.
This view is rare, as I hardly come to this side.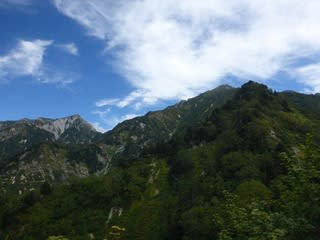 A ridge line to Mt. Hakuba.
I may try this ridge tomorrow, if possible.
The trail to Mt. Gaki is annoying.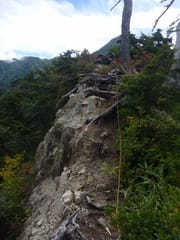 Some support ropes.
Lower I came it became hotter.
Kurobe dam came into my sight. A gray arch in the middle of the photo is the dam.
I probably walk on the dam soon. I have to watch carefully to this side to find Mt. Gaki.
Arrived at Mt. Gaki at 11:05, in 2 hours half while the standard duration is 4 hours.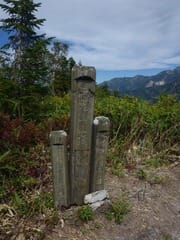 The pace was good enough, but it became hot.
Backside of Hakuba summits.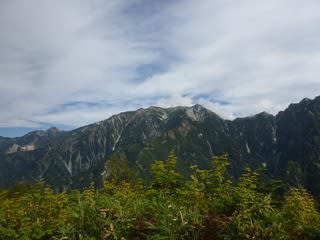 The trail is mostly in the forest, but sometimes there are nice views.
The ridge line on Mt. Gaki consists of so many roots,
And it is difficult to walk.
An emergency hut in Mt. Gaki, at 11:50.
The Karamatsu hut master told me this is the middle point.
I arrived in 3 hours 30 minutes. Then I would be arrive in the Onsen at 3pm.
The trail became a usual one again.
Shiju-Hachi Magari, or 48 carves with mossy rocks. Very slippery.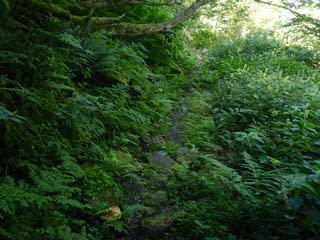 This was very much difficult to walk.
A leaning traverse trail.
This was also hard to walk.
Then, after some difficult walks, I finally arrived at the end of the trail at 14:26.
Baba-Dani Onsen spa.
6 hours duration, 12km distance and 1900m descending from Karamatsu hut.
The hut is across the river.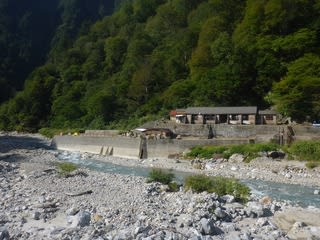 I made a cup of coffee.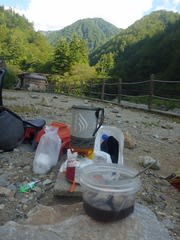 And spa, of course.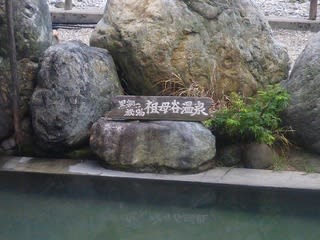 The spa was closed to the camp site, and easy to access when I feel colder.
After the dinner I got asleep right away.
I got up early this morning and I should be very tired.
Continue to
Trekking-Day 9-Baba-Dani Onsen Spa-Sarukura(16.5km)
.