Trekking-Day 7-Hakuba Three summits(14.1km)
Beautiful morning at Tengu hut.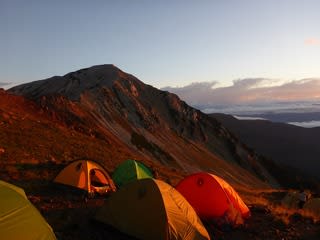 Day 7
Hakuba Three summits 7:42-16:50
Distance today 14.1km, climb 370m, duration 9:08, avg speed 2.3km/h, burned 533kcal
Today's route
Continued from
Trekking-Day 6-YariOnsen spa, Tengu hut(6.7km)
Beautiful sunrise.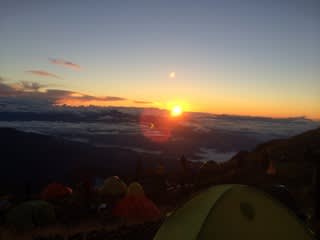 The temperature became below zero. My tent got frosted.
Mont-bell sleeping bag #4+down jacket was enough for sleeping.
The tent was not set flat, and I had to wake up and lift my body up.
Leaving Tengu at 7:42.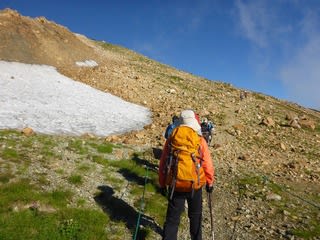 It took a little longer for wrapping tents.
Nice view in the morning.
Beautiful view of Mt. Tsurugi.
Noto peninsula beyond the Japan Sea in our sight.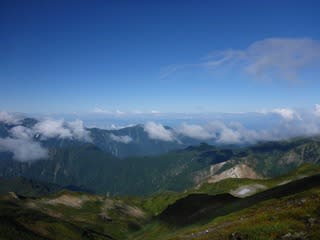 Arrived at Mt. Hakuba-Yarigatake at 8:45. 1hour so far.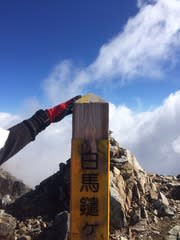 It's been 4 months since
we came here for skiing
.
We dropped like this.
Leaving Mt. Hakuba-Yarigatake to Mt. Shakushi.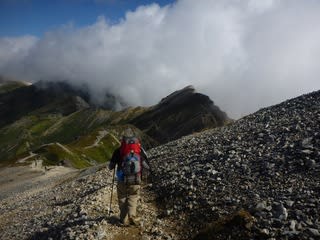 Annoying climbing on the slippery slope and,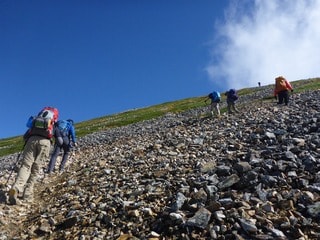 Arrived at Mt. Shakushi at 10:00. 2 hours from Mt. Hakuba-Yarigatake.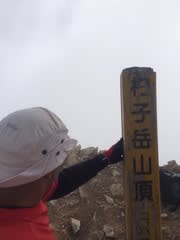 The next one is Mt. Shirouma (Hakuba).
Hakuba-sanso, or hut is standing just below the peak.
Arrived at Hakuba-sanso at 11:30.
Now we take lunch here.
I ordered cake and coffee, as I was not hungry.
After the lunch break we climbed to Mt. Shirouma.
Arrived at the peak at 12:30.
Now we conquared Hakuba three summits, Mt. Hakuba-Yarigatake, Mt. Shakushi and Mt. Shirouma.
Unfortunately the clouds covered our view.
Now we basically descend from here.
Nice ridge-walk which I love very much.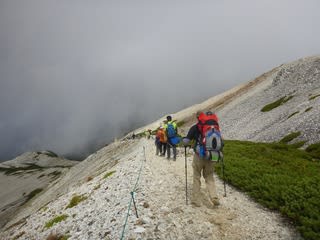 It would be perfect if we could have the view.
Arrived at Mt. Korenge at 13:55.
Now we are becoming behind schedule.
Keep walking.
Mt. Hakuba-Norikura is coming into our sight.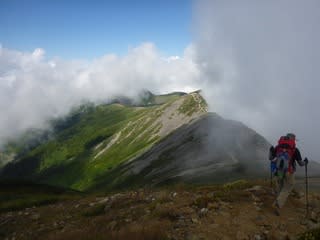 I looked back and see the trail we walked.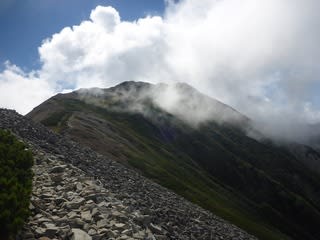 Nice trekking.
Hakuba-Oike lake.
And we arrived at Hakuba-Oike hut at 15:00.
The camp site looks full.
The last tram at Tsugaike leaves at 16:40. We have only 1 hour 40 minutes.
We wonder we can make it.
Now we have to accelerate walking.
Arrived at Mt. Hakuba-Norikura at 15:30.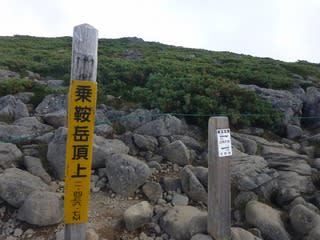 We just descend from here.
The snow field.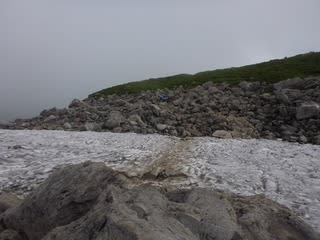 Arrived at Tenguppara swamp at 16:10 after the annoying rocky trail.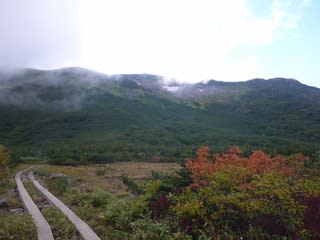 Walk a little more!
Arrived at Tsugaike Nature Park at 16:45.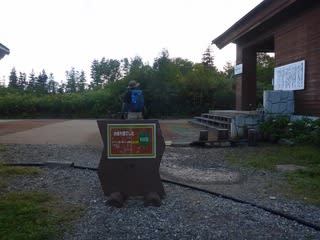 14km for 9 hours. It was really good work.
We missed the last regular tram, but we could get the extra one.
We wonder there were still some after us.
Visiting Hakuba mountains in two days in 21km.
Thanks for our mate, we did it.