Trekking-Day 6-YariOnsen spa, Tengu hut(6.7km)
Hiked elevation 1500m, approach for Hakuba three summits trekking.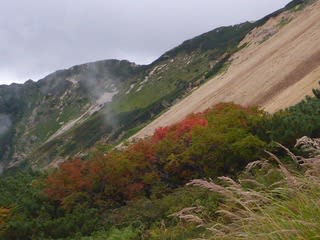 Day 6
YariOnsen spa, Tengu hut 7:50-15:50
Distance today 6.7km, climb 1,500m, duration 8:00, avg speed 2.3km/h, burned 968kcal
Today's route
The weather was not good in this season, but finally we should expect sunny days.
Now we attempt two days trekking for Hakuba three summits.
It was foggy in the morning.
Sarukura hut.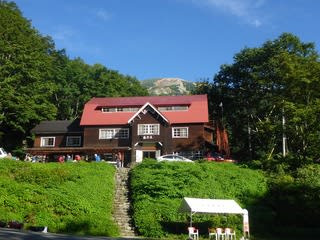 We came here by taxi as I expected the parking lot here would be full, and it really was.
3,000 yen from Happo #5 parking lot.
Leaving Sarukura at 7:50.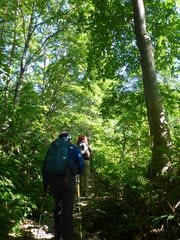 It's getting cool which helps us, but getting hot as we climb.
Today we have 6 people party, my buddy, Tah, ShuShu, ChuChu and Chris-san.
We keep slow pace in such a big party.
Everybody kept good pace and arrived at Obinata saddle at 10:00.
Crossing Shakushizawa creak,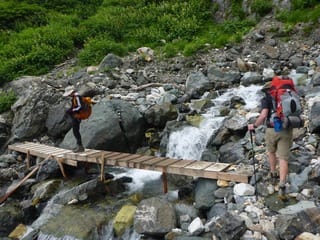 And arrived at YariOnsen hut at 11:30.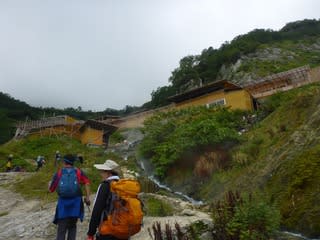 We had some allowance and we took bath here.
Leaving YariOnsen at 12:40.
Climbing on rocks,
And reached to Oideppara in 1 hour.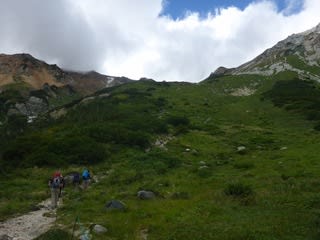 We could look down Hakuba village.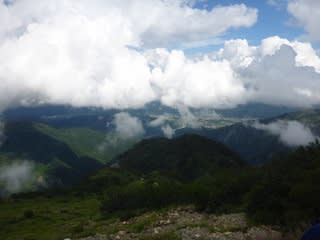 Some leaves have colored.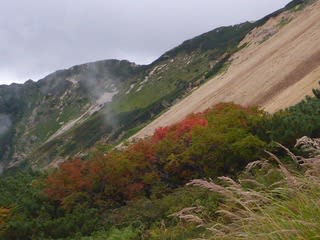 Although it was sunny in the morning the black clouds were coming past 3pm, and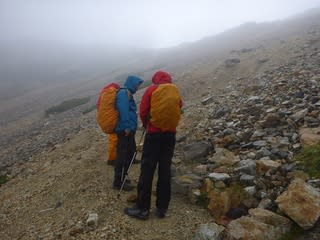 finally we got raining. We could almost reach to the ridge line.
At the ridge line at 15:30.
We keep walking in the rain,
And arrived in Tengu hut at 15:50.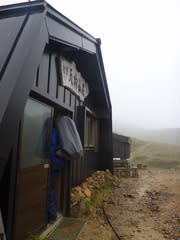 We climbed in 1500m height and 7km distance.
There were some space in the camp site, but we could not find the flat place.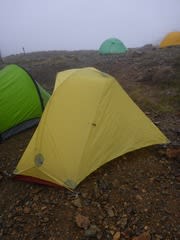 Continue to
Trekking-Day 7-Hakuba Three summits(14.1km)
.