Trekking-Day 4-Mt. Karamatsu(8.5km)
My home ground, Mt. Karamatsu.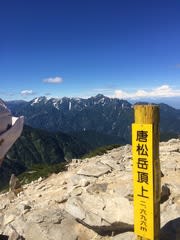 Day 4 Mt. Karamatsu 7:51-11:37
Distance today 8.5km, climb 575m, duration 3:30, avg speed 2.4km/h, burned 823kcal
Today's route
CAUTION! The duration in this article is due to my experiences and physical strength, and much shorter than the standard course time. Please plan by yourself considering your own experiences and physical strength when you plan to walk the course.
I had a business trip in China since last Monday. Went back to Japan on Sunday and worked in Japan on Monday, but went to China on Tuesday. Went home Thursday night and straight to Hakuba.
In the morning. The view of the three summits after a few weeks. The three summits had the blue sky, but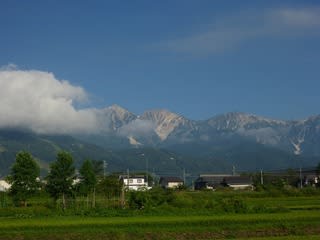 Mt. Karamatsu is covered with clouds.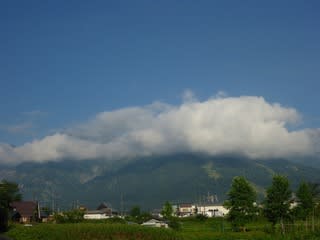 I rode on the chair lift just after the open time.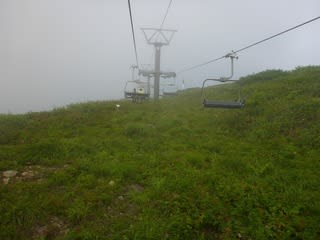 Started from Happo-ike hut at 7:51.
Arrived in Happo-ike lake at 8:16. It took 25 minutes so far. It takes longer than usual, as my body is rusty after the business trip.
I stopped by to take a picture of the reflection of the three summits.
Ougi-sekkei snow valley at 8:56.
1 hour so far. Very slower than usual.
I passed with a large party each other before the Maruyama ridge.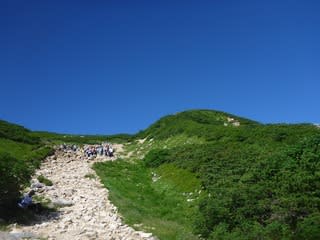 The party had 80 junior high school students.
Mt. Karamatsu hut at 9:35.
It took 1 hour 45 minutes so far. Net duration should be 1 hour and half excluding the time of passing each, and stopping by Happo-ike.
Mt. Karamatsu peak at 9:40.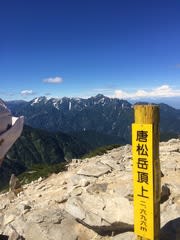 It took almost 2 hours, which is very disappointing to me.
Very nice view with Mt. Tsurugi far, and Tateyama summits.
And Mt. Fuji.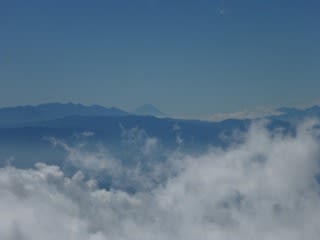 This is the first time to see Mt. Fuji from here.
The wind was very cold and I wore the wind breaker.
Short break at Maruyama ridge.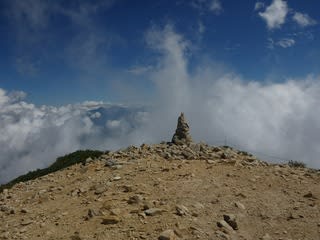 I brought role bread with ham defrosted from the frozen ones that I left and froze a few weeks ago at the last trekking.
The bread lost moisture and became very hard. The ham inside was almost like jerky.
The role bread with ham should not be frozen.
The trail is very organized.
I don't like this step but this is for the protection of the sediment discharge.
Returned to Happo-ike hut at 11:37.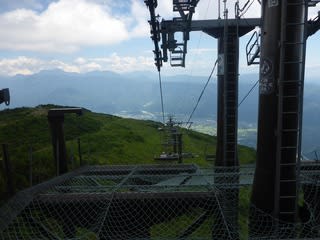 Good activity before lunch.
Lunch at Sounds Like Cafe.