Trekking-Day 2-Taneike Hut(4.4km)
Approached to Tane-ike hut before raining.
Day 1 Taneike Hut 10:27-14:05
Distance today 4.4km, climb 1,110m, duration 3:38, avg speed 1.2km/h, burned 0kcal
Today's route
Nice sunny day in Hakuba.
but the forecast calls the bad weather in the afternoon.
We wanted to walk on the ridge in two days trip with staying at a tent, but the weather did not look good.
After the deep analysis, we decided to go to Mt. Jiigatake in two days if we can approach to the camp site before raining.
The parking lot at Ougizawa was full.
Starting at 10:27.
It was a late start after we analyzed deeply.
Today the members were my trekking mate, Taa-chan, and ShuShu.
Ougizawa bus terminal was on our lower sight.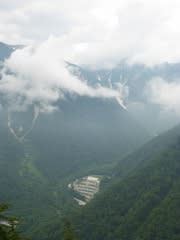 The parking lot was also full.
Mt. Harinoki.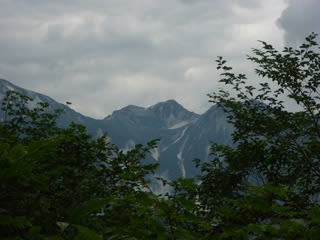 We skied down from the peak in this April
. The bowl still had the snow.
Crossing the snow valley.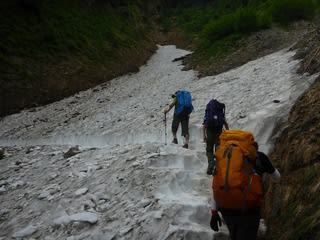 Very cool and nice feeling.
Arriving at Tane-ike hut at 14:05.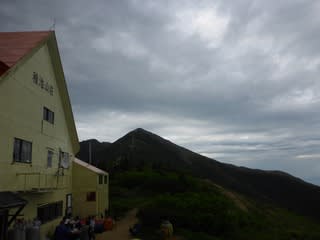 We walked slowly today, in 3 hours 40 minutes.
We wanted to go to the next hut, Tsumeta-ike hut, but the clouds did not look good.
Then we decided to stay and camp here.
As we expected it started raining.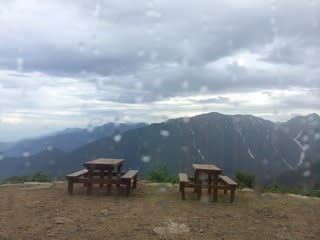 The rain stopped soon, and Mt. Kashimayari came into our sight.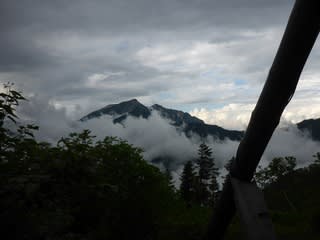 We could go to Tsumeta-ike if we would go.
The sunset.
Tateyama mountains are behind the ridge. It has pretty much snow and looks good for skiing, while approaching there is a problem. Continue to
Trekking-Day 3-Mt. Jii(8.0km)
.