Trekking-Day 1-Funakoshi Peak(12.0km)
Our trekking season has begun.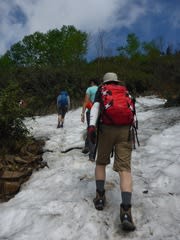 Day 1
Funakoshi Peak 9:04-16:00
Distance today 12.0km, climb 600m, duration 6:56, avg speed 1.7km/h, burned 433kcal
Blue sky in Hakuba.
Our trekking season has begun.
Today we aim Funakoshi through Tsugaike.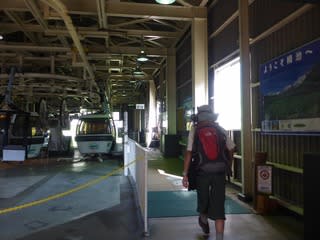 Taking Gondola lift with a long time after we used for skiing.
Starting at 9am. Today our party has my trekking mate, his colleague and his wife, and our collage mate.
Sooner we reached to the snow.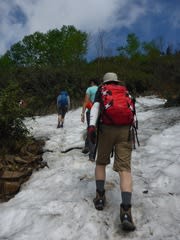 The snow remains a lot.
Last season there was much snow and this summer started very cool.
In 50 minutes we arrived in Tenguppara.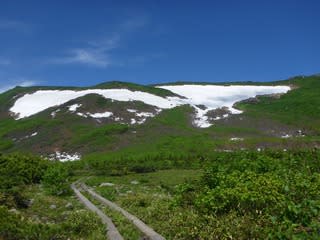 Good pace.
2 hours to Mt. Hakuba-Norikura.
Then Hakuba-Oike lake came into our sights.
Keep going.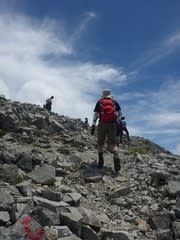 We arrived at Funakoshi peak in 2 hours 40 minutes.
Good to see everyone enjoying.
Mt. Tsurugi was seen far.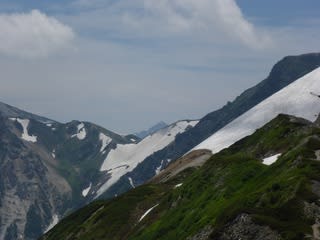 Today we return here.
Short break at Hakuba-Oike hut.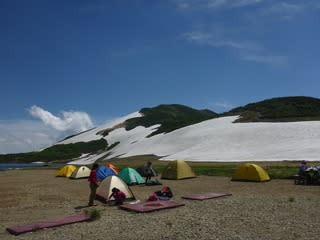 It was very difficult to go down on the snow.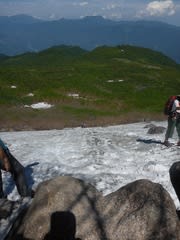 The snow made such a little creak.
A white arum was still there.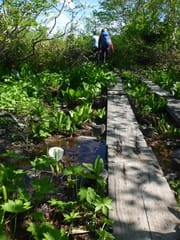 We missed a ride of the rope way.
Until the next one we walked around in the Nature Garden.
Good day.
Today it was very hot in Hakuba, but it was good for us to be in the higher place.