Cycling-Day 2-Shirasawa Pass(13.8km)
Day 2, 137days for cycling, total distance 9,979.2km, total climb 141,345m
Shirasawa Pass 13:47-14:34
Distance today 13.8km, climb 1,561m, duration 23:31, avg speed 17.4km/h, burned 332kcal
Gear: GIANT DEFY COMPOSITE SE
I wanted to ride on MTB today, but the rainy season has just begun. The trail must be muddy. We got some sun light in Hakuba, and we went out for a short ride to Shirosawa pass.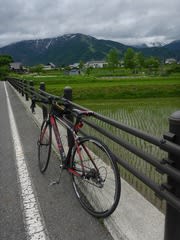 I made a great effor to make the best rap in 37'30"
I am totally exhausted. I cannot run within 35 minutes. We got some rain fall on the way back.