Ski day 63 at Tateyama
Skiing again.
63rd day for this ski season, 23 days for powder, 20 days for backcountry, telemark for 13 days
Tateyama 10:00-16:45
Gear: Teneighty GUN+SCARPA FREEDOM
Skiing in Tateyama last week
was good, then we decided to come back to Tateyama again.
Morning in Hakuba.
Looks like the skiing season over.
At Ogisawa station I was not feeling good in my stomach, and I went to the washroom just before boarding.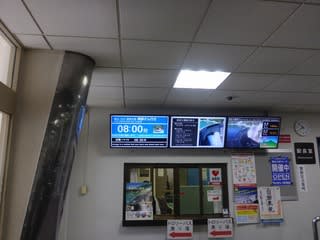 And I missed the one. They closed the gate one minutes before the departure merciless.
It does not have to be so punctual like Yamanote line.
I arrived 30 minutes late in Murodo.
The snow became fewer than the last week.
We dropped our stuff and went skiing.
Just like last week we headed to Tsurugi-Gozen.
An hour hiking to the ridge.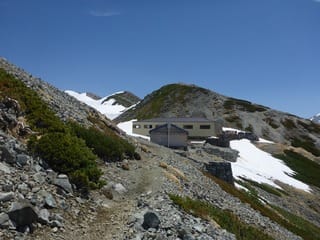 The snow on the ridge has gone since last week.
Heading to the peak of Tsurugi-Gozen.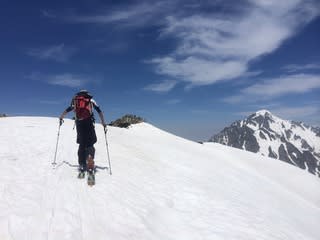 And ski down on the terrain as usual.
The condition was good, but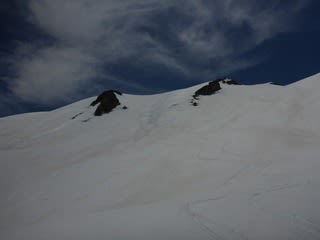 Sooner we ski down the avalanche came after.
It destroyed the slope and we could not ski on the same slope.
Climbing on the Tsrugi-sawa.
And skied down another slope.
And climbed back and skied down on the other slope.
We did three times.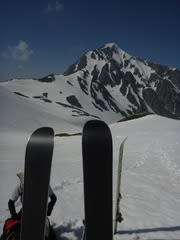 A break looking at Mt. Tsurugi.
Bessan ridge did not have snow, and we decided to go back.
Ridge line without snow to Raicho-zawa.
Skiing on Raicho-zawa was like a throwaway match.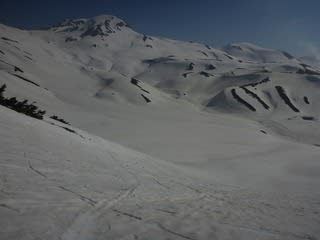 And really annoying walk to Murodo-sanso hut.
The complement of the day.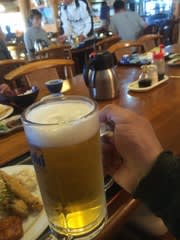 The sunset in Tateyama.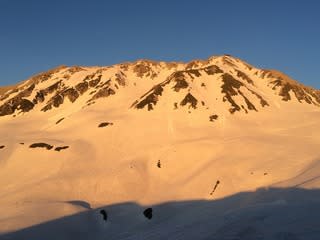 We fell asleep and missed Abendrot.
Continue to
Ski day 64 at Tateyama