Ski day 60 at Mt.Fuji
As a routine work in the season, Mt. Fuji.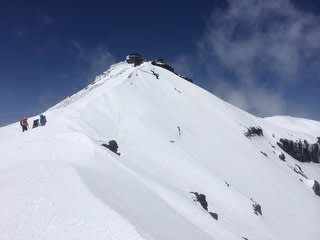 60th day for this ski season, 23 days for powder, 17 days for backcountry, telemark for 13 days
Gear: Teneighty GUN+SCARPA FREEDOM
Yesterday I was very hectic as my original flight from Shanghai was delayed 6 hours and I had to changed to the earlier one, but I could somehow arrived to the meeting point on time.
Beautiful blue sky.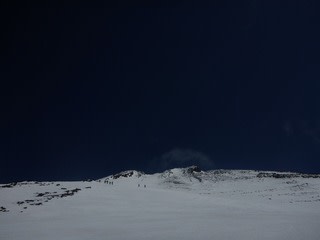 We could look down the towns.
We dropped our skies just before the ridge, as the further part seemed icy.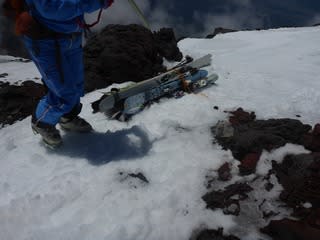 And final climb.
Arrived at the Torii, a gate of shrine.
The peak of Kengamine got into our sight.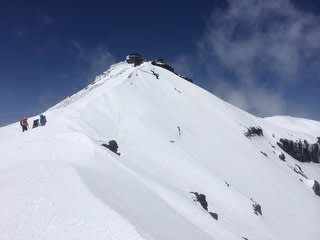 The snow looks fewer. The observatory building was not so buried in the snow.
6 hours climbing took us to the highest point in Japan, 3776m height.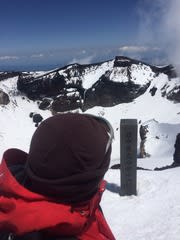 This is the forth time for me to be here.
The pace today was easy but we had to be careful to make deep breath otherwise we feel dizzy.
Onigiri or rice ball on the peak.
Now we go down.
One of our mate is taken with rope.
We came back to the drop point for skiing.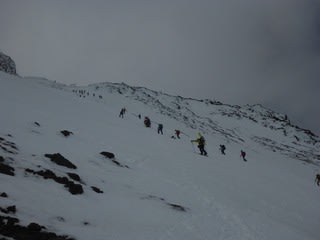 There were still many to climb.
Now we ski down.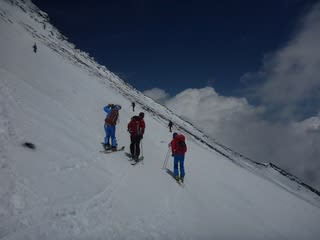 The size of the mountain blinds us to feel how steep the slope is. It's almost 40 degrees.
Nice film crust.
There was pretty much snow to the parking lot.
We went to Uokei, a seafood restaurant for closing.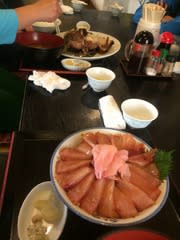 Yellow tail rice bowl (front). It is so big.
The food behind it is Tuna head.