Ski day 59 at HakubaYari
Dynamic descending this season as well.
59th day for this ski season, 23 days for powder, 16 days for backcountry, telemark for 13 days
HakubaYari 7:15-14:45
Gear: Teneighty GUN+SCARPA FREEDOM
Today we try a descending on Oideppara, the large snow field on the left side of the photo below.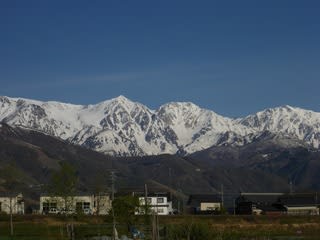 The parking lot at Sarukura was busy.
Starting at 7:15.
Arriving at Obinata saddle at 8:40.
And arriving at Yari-Onsen spa at 9:30. We could stop here but the snow seemed stable. We decided to go further.
Keep climbing.
The lower part of Oideppara had stop snow.
Reached to the ridge line at 11:25.
We climbed up here with climbing skins.
Then we arrived at the peak of Mt. Hakuba-Yarigatake at 12:05.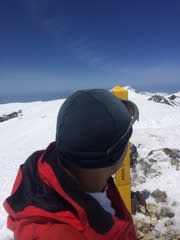 5 hours so far from Sarukura, and 2 hours from Yari-Onsen spa.
Great ice.
Mt. Tsurugi is far on our sight.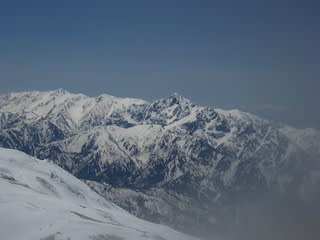 Then we now ski down from the peak.
At the beginning the snow was heavy, but there was no phantom here.
Good condition enough.
Then nice film crust.
And lower part was annoying.
Phantoms grabbed my legs.
Came back to Yari-Onsen at 12:40.
Cold Ramen for Lunch.
Then taking bath.
The bath was busy and we could not relax.
Today the water was not so hot and we did not have to cool down with snow.
Today the spa was busy. I did not see so many people. I am afraid the spa became very famous.
Then just returning home, no fun.
Climbing back to Obinata saddle.
At Obinata saddle.
Looking back the terrain we skied down.
Last run to Sarukura.
We could ski down to the parking lot with just one short walk.
Returned to Sarukura at 14:45.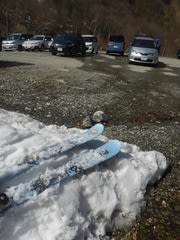 I am glad to go to Mt. Hakuba-Yarigatake successfully, with climbing in 2200m or 7 hours half walk.
At Lawson in the village we could see our trails.
I wanted to see our trails from the village.
This will be the last run in Hakuba, for the six months joyful ski season.
I miss the season and look forward to the next season soon.