Ski day 57 at RengeOnsen
57th day for this ski season, 23 days for powder, 15 days for backcountry, telemark for 13 days
RengeOnsen 6:40-9:40
Gear: Teneighty GUN+SCARPA FREEDOM
Continued from
Ski day 56 at Mt. Yukikura+Mt. Gorin
The forecast called raining, and it started as it called.
Recent trips from Renge-Onsen have been almost always rainy.
We left Renge-Onsen at 6:40. Walking in the rain.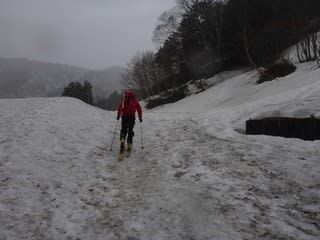 The cold front was expected to approach at 9am, and we have to get to Tenguppara by the time.
Then we walked faster.
We have to go back to Renge-Onsen even if we reach to Tenguppara, in the strong against wind or if thunder comes.
The rain changed to the snow.
At 9:10, we arrived at Tenguppara.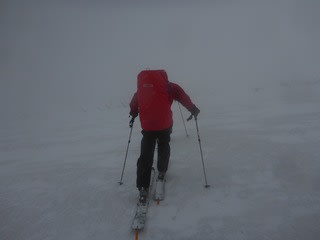 2 hours half for 700m elevation.
I was very happy to see this flag, which means we can go down to Tsugaike, instead of Renge-Onsen all the way.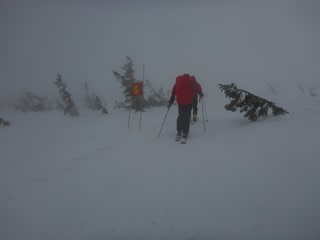 At 9:30 skiing down to Tsugaike.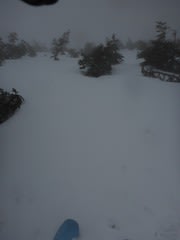 There is poor visibility and the terrain is rough, but it is the powder snow.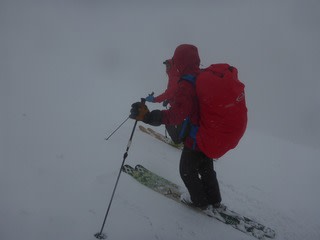 At 9:40 arrived in the Ropeway station.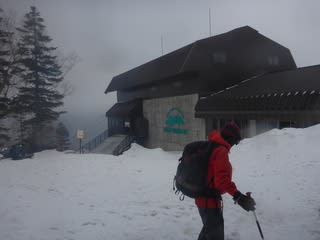 2 hours half climbing and only 10 minutes skiing down. Well, it happens.
We have to say happy to come straight back here.