Ski day 56 at Mt. Yukikura+Mt. Gorin
Dynamic ski down on Mt. Yukikura.
56th day for this ski season, 22 days for powder, 14 days for backcountry, telemark for 13 days
Mt. Yukikura+Mt. Gorin 6:30-17:15
Gear: Teneighty GUN+SCARPA FREEDOM
Continued from
Ski day 55 at RengeOnsen
.
Today we head to Mt. Yukikura, a white mountain behind the ridge.
I tried to go there
three years ago
but I couldn't. I wish I can go this time.
Leaving Renge-Onsen at 6:30. The route today would be very long and we left early.
The cold front last night brought the cold weather, and the terrain was very icy.
It was hard to walk or even ski down.
Climbing on our feet.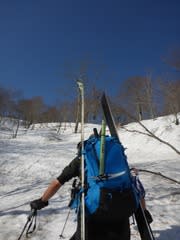 Then we got the skin climbing at Seto river.
A long long walk in 1200m high from here.
On the way I had to walk on my feet, or some hard part on skins, and approaching to the peak of Mt. Yukikura.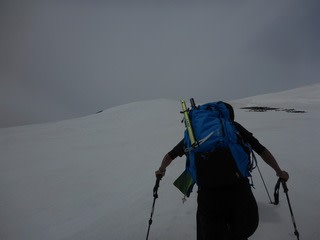 I had to quit here three years ago due to the thunder storm.
Then we arrived at the peak at 11:30. 3 hours and half walk from the bottom.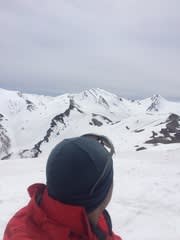 Mt. Shirouma is in front of me. Nice view.
Tarmigans were just in front of us.
Now we ski down.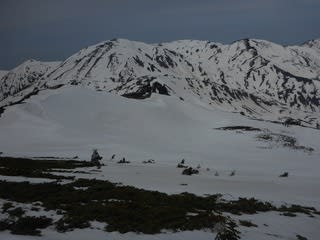 A nice bowl is in front of us.
It was really nice as we expected.
The nice slop still goes on.
This part was over 45 degrees.
Dynamic skiing down.
We really enjoyed.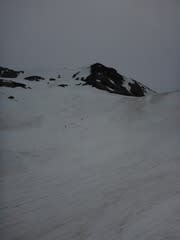 The normal tour may stop here and return, but our mountain guide took us further.
Mt. Gorin, in front of us is the next destination.
We had a bad memory about Mt. Gorin.
Almost ten years ago we went there and the whole mountain was crust snow.
Since then we had stayed away from it.
Today can we change such bad impression?
We just went to the saddle, not to the peak this time.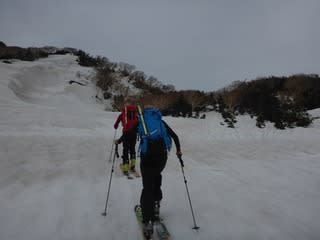 Keep climbing.
After 400m climbing, we found a nice slope.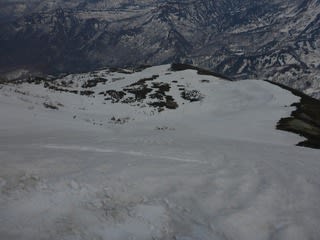 Looks beautiful.
And it really was.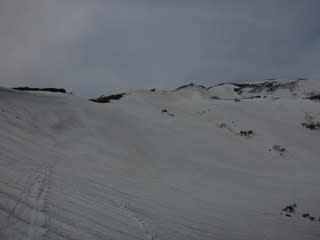 Now we could change the impression of Mt. Gorin.
However Renge-Onsen, our home today, is really far far away.
We left the saddle of Mt. Gorin at 14:30.
Crossing on the thin snow bridge,
And annoying traverse,
Then crossing the bridge over Seto river at 15:49.
After here my climbing skins had a trouble. One of pair did not stick on my ski.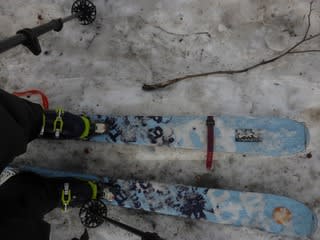 I bound with a rubber band for an instant treatment.
The walk was hard because I could not slide my foot.
We arrived at the lodge at 17:15, with over 11 hours activity and over 2000m climbing.
Such a long long trip.
Although I got a trouble with my skins, it was a really nice trip with dynamic skiing on Mt. Yukikura and changing the impression of Mt. Gorin.
Continue to
Ski day 57 at RengeOnsen
.