Ski day 53 at Mt. Harinoki
Enjoyed the nice wide terrain just beneath Mt. Harinoki.
53rd day for this ski season, 22 days for powder, 12 days for backcountry, telemark for 12 days
Mt. Harinoki 9:30-14:50
Gear: Teneighty GUN+SCARPA FREEDOM
Today we wondered the bad weather but we could have visibility in the morning. Good start.
Today we aimed Harinoki snow valley.
At 9:30 we left Ougizawa station for Tateyama-Kurobe Alpine route.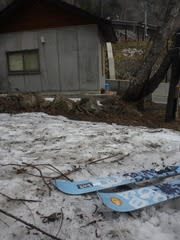 The snow got dirty.
The snow disappeared several times at the beginning, which forced us to walk.
At 11:30 we came to Harinoki snow valley.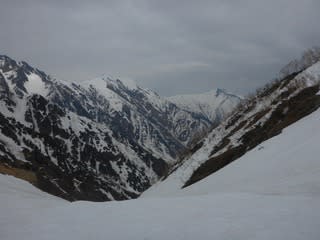 There are two options: one is to climb up on the snow valley, or the other one is to climb up to Mt. Harinoki.
We chose Mt. Harinoki, as I have never been there.
The terrain after this place was very steep and the snow was very slippery.
It was very difficult to use climbing skins.
I almost slipped away but somehow I could hold.
Last attack to the ridge line.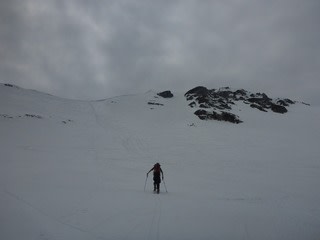 And we had to carry the skies for the last approach.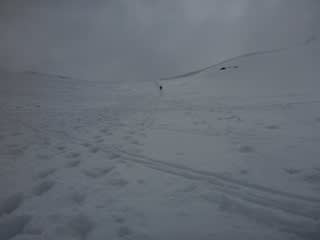 At 13:18 we reached to the ridge. We spent almost 4 hours so far.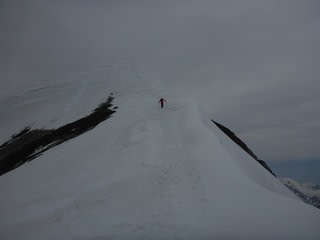 And the last attack to the peak.
Then finally we arrived at the peak of Mt. Harinoki at 13:23, 2820m above the sea level.
The elevation we climbed were 1400m. Long walk for 4 hours.
I was exhausted with the difficult climbing on the skins.
Mt. Yari was far in our sight.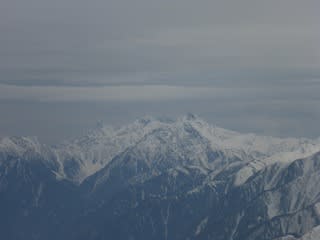 Then we came back to the ridge and started skiing down at 14 o'clock.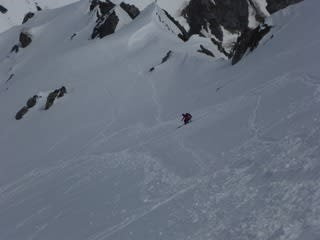 The terrain is over 40 degrees.
Nice and wide slope. The snow was also good.
Our hard climbing was rewarded.
Keep going down.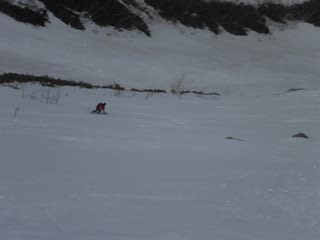 This was the place we struggled to climb. It does not look so steep if we look down.
We really enjoyed.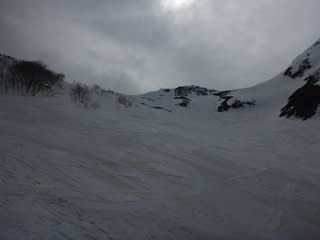 But the joyful time ended here, at 2000m above the sea level.
From here, there are a lot of debris and bad wet snow all the way to the end.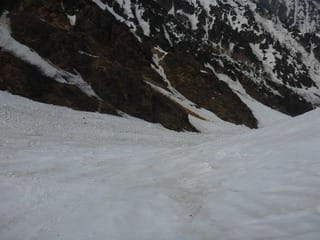 I could not believe there was the fantastic place up there.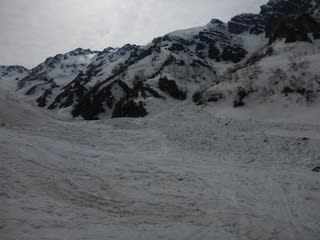 Dirty annoying debris.
And we travarsed through a trail like a rail track,
And walked on the annoying part for the end.
At 14:50 we came back to Ougizawa station.
We spent 4 hours for hard climbing but skiing was only 1 hour.
Many buses were waiting for the tourist of Tateyama Kurobe Alpine route.
It is awful there were so many tourists to fill these buses.