Ski day 47 at Funakoshi
I brought wrong climbing skins.
47th day for this ski season, 22 days for powder, 7 days for backcountry, telemark for 11 days
Funakoshi 9:40-12:40
Gear: Teneighty GUN+SCARPA FREEDOM
Beautiful sunny day in Hakuba. Good for backcountry skiing.
We came up to Tsugaike Natural Park but I found I brought wrong climbing skins.
The one I brought was for my powder skies, which is much wider than my skies today.
Edging is also important when we climb but the wider skins are outer of the edges.
I put skins somehow to have inside edges to appear.
Nice weather.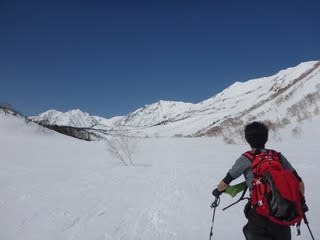 We walked in good pace,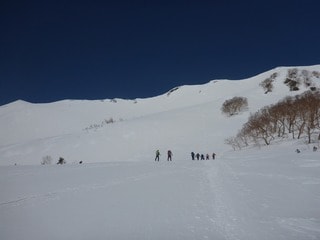 and reached to the ridge for 1 hour 40 minutes.
But the walking on the ridge line was terrible.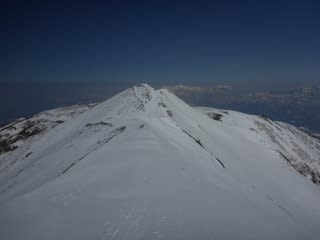 The ridge line was really icy, and the edging was really required while my edges were covered with the wider skins.
I could somehow stand at most.
There were three spots I felt really scared.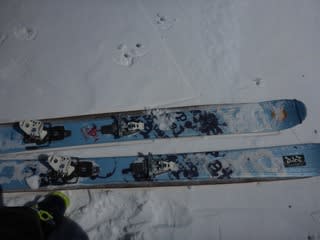 Wider skins covering the edges.
I had to walk in unusual position and it made my legs stiff.
The surface was crusty.
Then I got my legs cramp. I could hardly ski down.
I made ugly trails.
We had planned to climb up again, but I could not do that again.
Then we went back.
It was still 12 o'clock!
Very annoying descending in Tsugaike.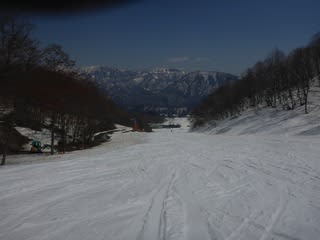 but we could come back to the gondola middle station on skies.
Lunch at Prairie.
Then we went to see Fukujuso flowers (a kind of buttercup).