Ski day 46 at HappoOne
46th day for this ski season, 22 days for powder, 6 days for backcountry, telemark for 11 days
HappoOne 11:00-12:30
Gear: Pocket Rocket(Telemark)+GARMONT ENER-G
Today we had planned backcountry skiing but the visibility was not good when we woke up.
We gave up and slept again.
In the late morning I went skiing.
Poor visibility in Usagi.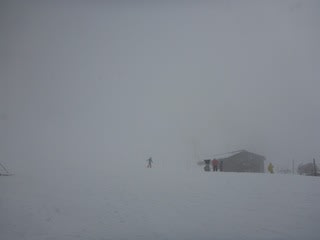 I went to Panorama, but...
The piste was not groomed enough and frozen bumps with powder snow annoyed me in poor visibility.
I wanted to quit in 2 or 3 runs.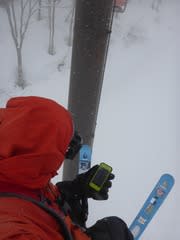 Reading a newspaper on the chairlift.
After 3 runs I found a sampling.
The first one was K2 Wayback 82.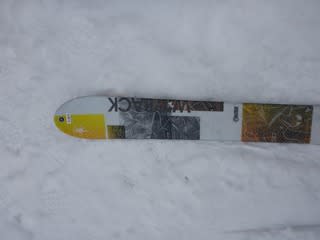 The feeling was hard, as the ski was heading straight.
It was not easy for me, as riding on 13-years-old Pocket Rocket.
This ski seemed good on the deep powder snow with straight runs.
The next one was 4FRONT CODY.
This was easy. I went to the rough terrain in Usagi but this ski was switching smoothly.
The last one was Movement skis Underground.
This one was also easy, and response was good on the rough terrain in Usagi.
But this design is not good to me.
I would have a nightmare if I would carry this to the mountain and stay in camp.
The sampling was fun. I should do this from the beginning.