Ski day 38 at HappoOne
38th day for this ski season, 20 days for powder, 5 days for backcountry, telemark for 9 days
HappoOne 8:30-11:20
Gear: HEAD i.Supershape Magnum
Today we went to Happo-One as usual.
The weather forecast called the rain in the afternoon, and we got there early.
Well groomed piste in Sakka.
Riesen quad lift was crowded.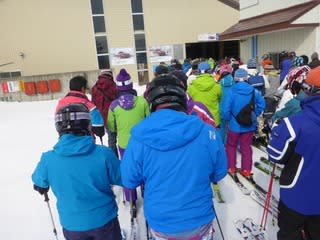 The piste in Riesen was already slushy and heavy.
I got my foot with the heavy snow and fell down. How embarrassing.
The competition at Usagi.
A skier hooked my ski end and I fell down. He did not apologize.
During the competition such fake expert skiers are gathering. How annoying.
The visibility got worse in Panorama, and we ended up.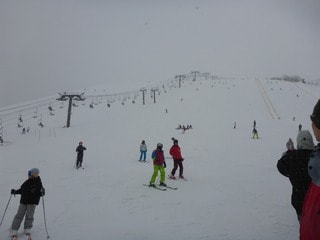 My zipper of my jacket was broken and I had to ski without jacket.
I bought this at an outlet mall but that was the reason of the outlet.