Ski day 34 at HappoOne
34th day for this ski season, 19 days for powder, 5 days for backcountry, telemark for 7 days
HappoOne 11:15-13:00
Getting warmer and warmer in Hakuba.
Some snow fall was expected last night but I realized it did wasn't 5:45am.
I slept again.
I went to a sampling event of Black crows. I have been interested in that brand as I always saw in Cortina.
I did not bring ski sets today.
The first one was ORB FREEBIRD.
This is designed for touring, but I did not like this flexibility. It was too hard, as my impression,
to walk long or ski down on the rough place in the spring tour.
I also complained it to the staff. Sorry, but I believe my comments are useful.
The second one was CORVUS. They said it is the flagship model.
This one was good as they recommend. I realized it even going down in the short slop between Nakiyama tripple to Riesen quod.
Today the condition was not good. The snow was melting and slushy, the courses were croweded.
But this ski entertained me very much. I wish I would be on it in Cortina.
The next one is not of Black crows, but Dupraz DII.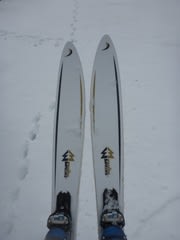 This is asymetry set. The steep curve outside is for piste riding, and the gentle curve outside is for powder riding and giant slarom. You can enjoy different riding in one ski set.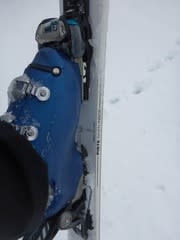 "PISTE WHEN INSIDE" The other side indicates "POWDER WHEN INSIDE".
Honestly I did not like this flexibility, but I like this idea.
There was a wider size with 170mm nose! It is really evil. I don't want a guy on it in Cortina.
The last one was CAMOX.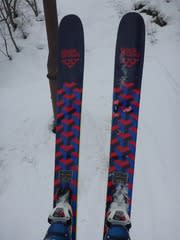 This is more gentle model than CORVUS. I enjoyed in the rough condition.
For sampling skiing the one ride for one set is limited in 2 or 3 lifts, which brings me to Nakiyama and Riesen only.
The upper area was not visible today, though.
The condition was not good, but I could enjoy today.