Ski day 18 at Happo-one
18th day for this ski season, 10 days for powder, 2 days for backcountry, telemark for 3 days
Happo-one 14:45-15:30
Gear: BANDIT L(Telemark)+GARMONT ENER-G
In the morning the snow fall was not enough. The forecasts in Niigata was calling some snow fall, but it did not actually.
I slept again and woke up late.
I felt guilty not to do some activities and went skiing after lunch.
Lunch at
COCCOLA J
.
Happo-one
A long cue was not finished even at 3pm.
Usagi.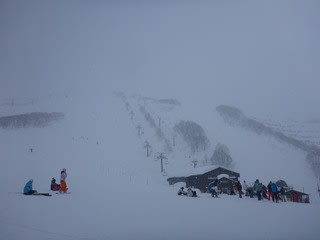 Visibility did not look good up there.
Today I chose Bandit L with telemarking.
The ski was felt narrower than the other skies I use. The slopes were bumpy and not easy to go down.
I went down on Skyline but it was tough for the narrow ski.
The course to Kokusai was crowded.
I don't like skiing in the holidays.