Ski day 16 at Happo-one
Very disappointing snow fall again.
16th day for this ski season, 10 days for powder, 2 days for backcountry, telemark for 2 days
Happo-one 7:30-8:30
Gear: HEAD i.Supershape Magnum
We did not expect much, but the snow fall was disappointing again.
Looks like poor visibility up there.
Usagi.
The lower part was visible.
I just followed the trees as marks to go down.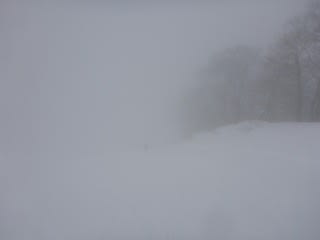 I did three runs but that was enough.
In these days these were the patterns we saw.
Disappointing snow fall in the day time with poor visibility, or sunny but strong winds suspending the lift operation. Ski resort must suffer this situation.
Morning coffee at
Coffee Senjyu
.
Lunch at
COCCOLA J
.
Pizzakaya Country road for the last dinner to close my holidays.