Taiwan -day 4- Taichung
Continued from
Taiwan -day 3- Tainan
.
We took breakfast at the hotel and traveled to Taichung.
The HSR, or High Speed Train station is well designed functionally. It looks like an airport rather than a train station.
The train comes.
All transportation in Taiwan run on the right side but the only HSR runs on the left.
Is this because the HSR technology is imported from Japan?
We arrived at Taichung in 40 minutes.
We left our luggage in the locker, and went to Căi hóng juàn cūn, or Taichung Rainbow Village by a taxi. About 15 drivoing in 200 NTD.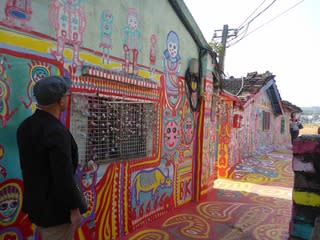 This place was originally supposed to be broken down for the reconstruction, but an old man started painting on the walls, and the city decided to preserve this place.
The pictures are very unique.
The surroundings are under development.
A taxi driver offered us to take back to the HSR station. In fact, he was told to wait here by another customer, and he offered us to drive while the customer was sightseeing. On the rear seat there were his/her belongings still left!
The village is far from the downtown but not from the HSR station. I recommend you to drive there by a taxi, but not to ask the drive to wait for you during your visiting, otherwise the driver may drive another customer to the station!
Then we went to the downtown. We left our luggage to the hotel and went sightseeing
.
Taichung railway station.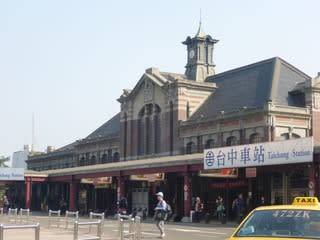 Nice traditional atmosphere.
Then we went to the Art museum parkway, where nice cafes are surrounding.
Lunch at a restaurant we stopped by.
Then we went back to the railway station, and took dessert at Miyahara Ganka in front of the station.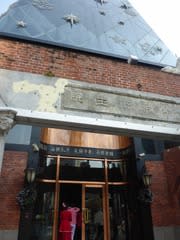 Miyahara Ganka, or Miyahara Eye doctor opened his clinic in the Japan era.
A cake company preserved this building and renovated as a store and a restaurant.
The first floor is a store. It looks like a library.
On the shelves the cakes and nougats are stored in the book-shaped packages.
The second floor is the restaurant. We took dessert there.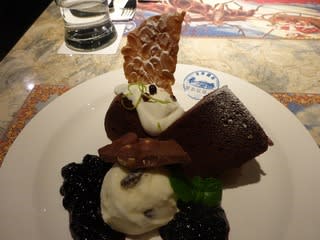 We became full there.
If you don't take much you have to be careful because the minimum charge is 380NTD per person.
Continued to
Taiwan -day 5- Taichung/Home
.