Ski day 5 at Happo-One
50cm snow fall at night.
5th day for this ski season, 5 days for powder, 0 days for backcountry, telemark for 0 days
Happo-One 7:45-9:30
Gear:
BanYa
M1102+SCARPA FREEDOM
Arriving at Hakuba at 0am. The forecast said the storm was coming, but no snow falls. Even the moon shined, and I almost gave up the powder runs.
In the morning we found the huge snow fall like the picture on the top.
Almost 50cm snow fall only for 6-7 hours.
The gondola lift operation stars 30 earlier from this week, and we were a little late.
Somehow the junkies were fewer.
Most of the junkies headed to Usagi or Skyline, but we enjoyed Panorama.
Then the sun came and the snow became heavier in the lower part. We went up to the higher area.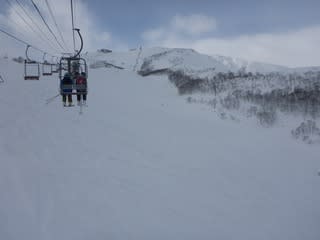 Skyline was almost done, but we enjoyed some areas.
The last run was not good due to the poor visibility, but the most of the runs were even further good enough. We ended at 9:30.
I had a job to do and could not relax after the powder runs.
Lunch at Sounds like cafe.
And Pizzakaya for dinner.
I was full and got asleep, although the job was not finished.