Ski day 1 at Happo-One
The season has begun.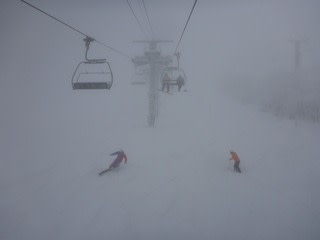 1st day for this ski season, 1 day for powder, 0 days for backcountry, telemark for 0 days
Happo-OneTateyama 8:15-12:30
Gear: Teneighty GUN+GARMONT RADIUM
A month passed since I got
an accident of riding on MTB
. I thought I got my clavicle fracture, but at the result it was the joint damage.
My shoulder still pains, but I could not stop going for skiing as the powder days have come.
In the morning some snow flakes were flying. This is the first snow that I see in this season.
In last few years my seasons started in November at Tateyama, and this is the very late start.
At the gondola lift station had a long cue, but the powder junkies were fewer.
The snow was thin when we were riding on the gondola lift and we were worrying about the condition, but there was much snow up there.
The piste was already in the festive mood.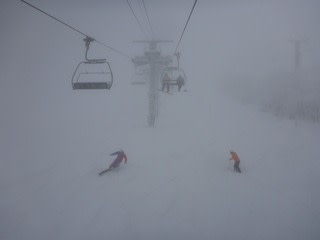 We joined and went to the 'Secret' course. We completely enjoyed for 4 hours.
I had not done any exercise in a month, and the long walk was hard to me.
On the way back we had to use the descending lift.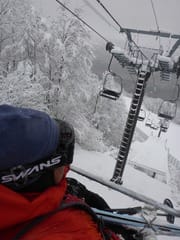 This year a safety bar is installed and it comforted me a little.
Still I don't like the height especially the beginning of this lift.
We went for lunch at Sounds Like Cafe.
This shape looks like a storm-trooper in Star Wars.
It was the late season start, but a good start.