MTB-Day 6-Matsumoto(11.1/206.9km)
Beautiful ride in autumn trees, and......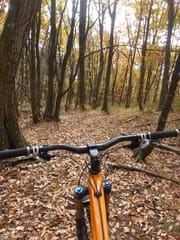 Day 6, 16days for MTB cycling, total distance 206.9km, total climb 5,249m
Matsumoto 11:41-14:13
Distance today 11.1km, climb 55m, duration 1:22, avg speed 7.2km/h, burned 375kcal
Gear: ibis mojo HD
The mountains in Hakuba are covered with the snow nicely.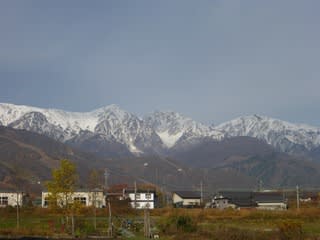 The full colored leaves at the village.
And the beautiful view from Hakuba to Matsumoto.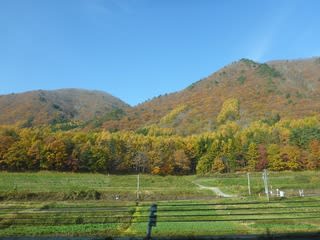 Arrived at the trail.
The first ride.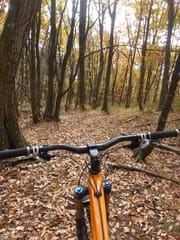 Such a beautiful trees.
Mt. Jonendake is in our sight.
It reminds us the nice
trekking in September
.
Then the second ride.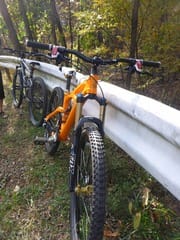 We enjoyed the second ride, but.....
I hit my left shoulder to a tree when I was riding nicely and fast.
I could not move just after the hit.
There are nice curves after it, but I could not lean my body to the front and I had to push the bike almost all the way.
Then I saw a doctor and took an x-ray photo.
The doctor said it is the fracture of clavicle.
The fracture was not shown clearly in the photo, then I will be recovered if I don't move arms.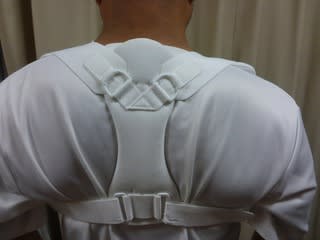 I have to put a corset.
I have never got fracture before, which was shock to me, but it was good I don't have to take any surgery.
Now I just wait for the recovery.
There are some difficulties to fasten a seat belt, press CTRL+C keys, etc.