Trekking-Day 8-Mt. Jonen(8.0km)
Authentic view from Mt. Jonen.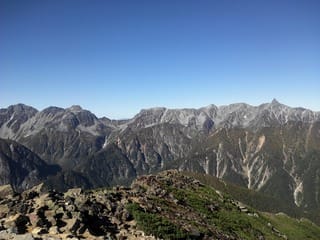 Day 8 Mt. Jonen 7:35-12:37
Distance today 8.0km, climb 433m, duration 5:0, avg speed 1.6km/h, burned 587kcal
Today's route
CAUTION! The duration in this article is due to my experiences and physical strength, and much shorter than the standard course time. Please plan by yourself considering your own experiences and physical strength when you plan to walk the course.
Continued from
Trekking-Day 7-Mt. Tsubakuro, Mt. Otensho, Jonen hut(16.1km)
.
At 5:30am the noise around me woke me up. It was a little earlier than my schedule, but I got out of my tent and found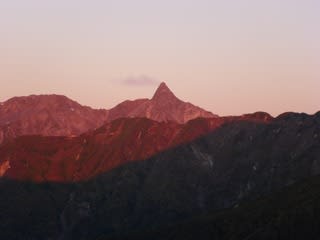 the morgenrot of Mt. Yari. People around me were gathering for this.
Then the sunrise comes to our site.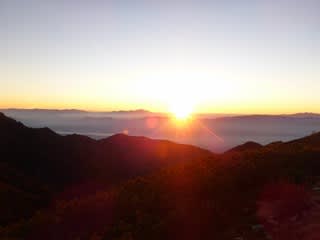 We had a relaxing time after breakfast. People around us already left.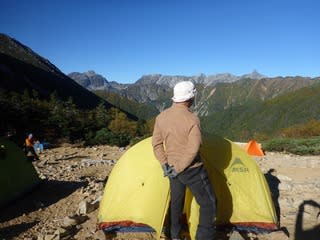 We did not have to hurry, as we just planned to go to Mt. Jonen and go home.
We started going to Mt. Jonen at 6:38.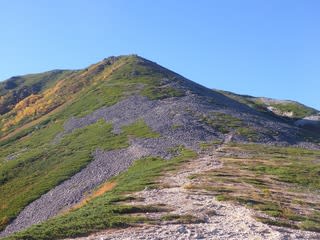 Arriving at Mt. Jonen at 8:26.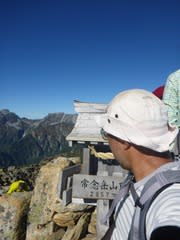 Arriving in 40 minutes.
The ridge line from Mt. Yari to Mt. Hotaka.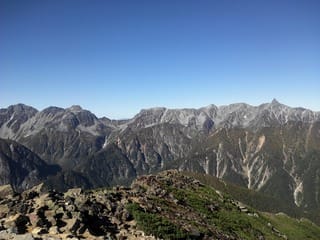 Mt. Otensho, where we walked yesterday. Right behind it there are Mt. Hakuba and other summits.
Mt. Washiba, Mt. Warimo and even Kumonotaira are in our sight, where we walked in this summer
.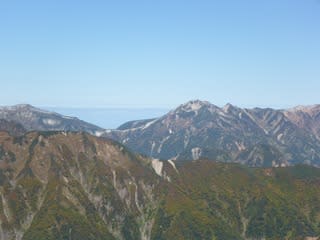 The view from Mt. Jonen is wonderful. Major mountains of Japan Northern Alpine are in our sight.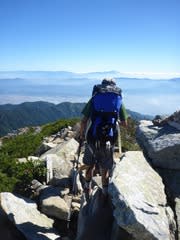 And Mt. Fuji.
We could not leave this view and stayed there for almost 1 hour.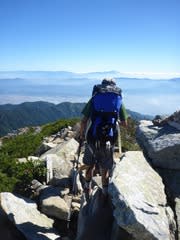 We miss the view, but we left at 9:30.
Only our tents and a few left at the camp site.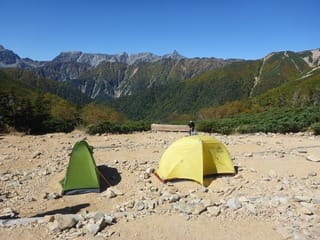 And we wrapped up there.
Leaving the camp site at 10:46.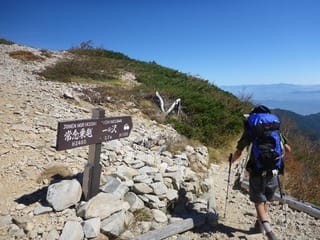 Color leaves and Mt. Jonen.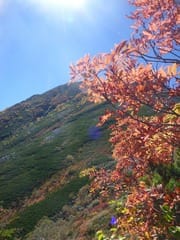 Walking down on the trail.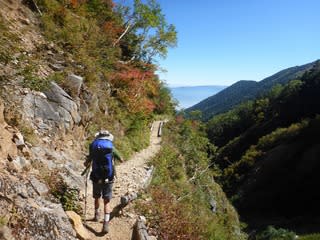 The trail was very long to me.
I don't like this kind of trail.
The trail continues.
I realized through the altimeter that we are descending, but I thought the trail would never end without the altimeter.
Arriving at the goal at 12:40.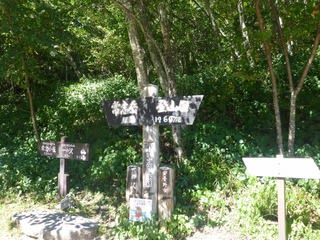 A little less than 2 hours to the goal.
We picked a car up at Nakabusa-Onsen spa and returned to Hakuba at 4pm.
These two days were very full of nice views and nice trekking.