Trekking-Day 6-Mt.Karamatsu, Kaerazu peaks, Yari Onsen Spa(19.2km)
A difficult trekking through Kaerazu.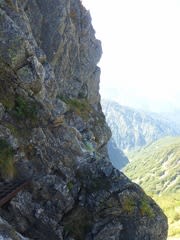 Day 6 Mt.Karamatsu, Kaerazu peaks, Yari Onsen Spa 8:12-17:36
Distance today 19.2km, climb 1,917m, duration 9:26, avg speed 2.0km/h, burned 1,778kcal
Today's route
CAUTION!
The duration in this article is due to my experiences and physical strength, and much shorter than the standard course time. Please plan by yourself considering your own experiences and physical strength when you plan to walk the course.
On the first day of the national holidays we planned a one-day trekking at Kaerazu, from Mt. Karamatsu to Yari-Onsen spa.
I have walked to Mt. Karamatsu many times and the duration is predictable, but not farther to Kaerazu.
According to guide books, the standard course time from Mt. Karamatsu to Kaerazu is 2 hours half, from Kaerazu to Tengu is 2 hours half, and from Tengu to Yari-Onsen spa is another 2 hours half.
It means we will be arriving at Yari-Onsen spa at 5:30pm even we leave Mt. Karamatsu at 10am, with our usual quick duration, which this trekking makes harder for a one-day trip.
Kaerazu, or "Never return" in Japanese, is one of difficult spots in Northern Japan Alpine mountains, and I fear the heights.
I was very nervous and prepared to stay at a hut to the worst case.
Foggy in the morning, but sooner it should be sunny.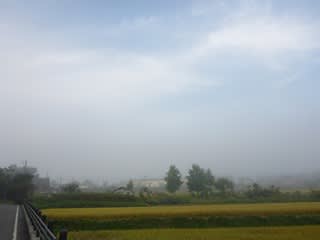 After a few minutes, it became the sunny day.
We arrived at the chair lift 10 minutes before the operation start.
A long cue for the holidays. It took more than 10 minutes to ride.
I have never seen such a long cue, and in the snow season the cue has never become that long.
After the chairlift, the Hakuba three summits were in our sights.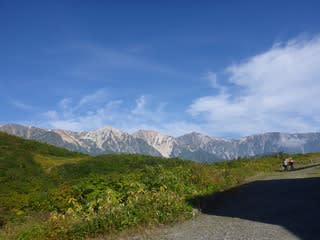 And Kaerazu ridge line as well, where we are going to walk today.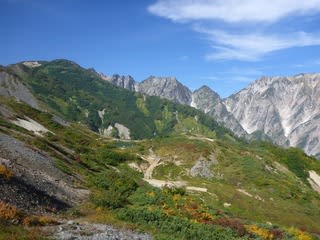 We left the start point at 8:13, as the beginning of a long long trekking.
Arriving at Happo-Ike lake at 8:43.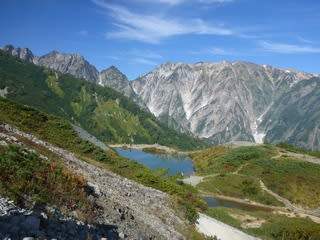 Usually it takes only 15 minutes but it took 30 minutes due to the traffic.
Then we passed through other trekkers and we became almost the top on the ridge line.
Arriving at Karamatsu hut at 9:54.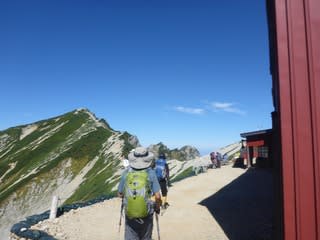 1 hour half so far, which is a little later than usual. We walked in slower pace.
Arriving at the peak of Mt. Karamatsu at 10:07.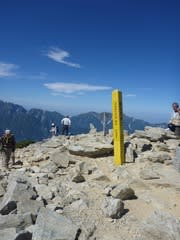 1 hours 54 minutes so far. We took a short break.
Tengu ridge, where we are going.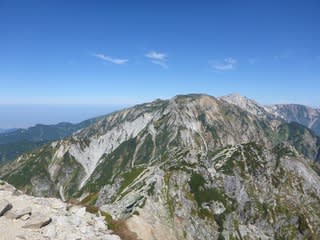 Kaerazu ridges are not in our sight, which are too deep.
Mt. Tsurugi.
We would like to go there, but not in this season any more.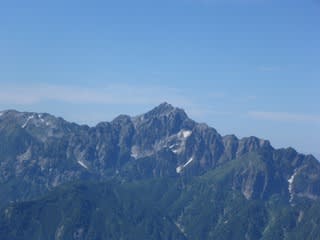 Now we leave for Kaerazu at 10:18.
Walking with a tense. Kaerazu, or "Never return" in Japanese, where we never go back.
We reached at the third peak of Kaerazu at 10:39. There were no hard spots.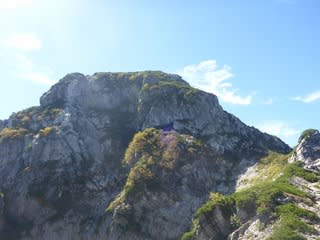 Arriving at the Southern second peak of Kaerazu.
Mt. Karamatsu where we left.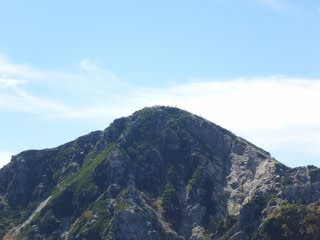 Many climbers were on the peak.
Treks on Kaerazu, where we are going. They are knife ridges.
Arriving at the Northern second peak of Kaerazu at 10:55.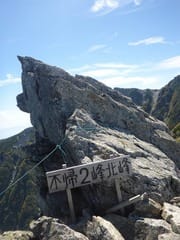 There is the hardest spot of the day further.
There are full of chains and rocks.
It is more scary to me, as I fear the heights.
I have already experienced such kind of ridge lines last year,
I walked through from Mt. Oku-Hotaka to Mt. Kita-Hotaka
. I talked myself that I can do it.
If I look down, I will be paralyzed. I concentrated to my hands and feet.
The trail itself is not too steep, but there are some spots with falls.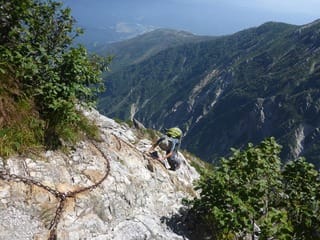 We passed through here.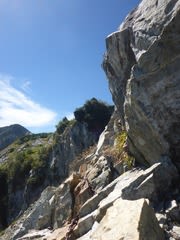 A sign board, "To Mt. Karamatsu / Kaerazu / To Mt. Shirouma".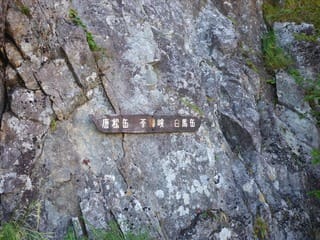 Walking along the rock wall through the radar.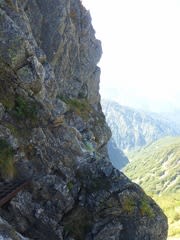 We passed through this wall.
We completed the second peak of Kaerazu at 11:27.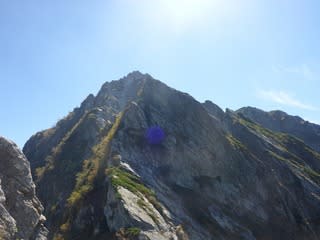 Keep walking through the rocks.
Arriving at the first peak of Kaerazu at 11:35.
Now we cleared the hard spots.
Looking back the second and third peaks of Kaerazu.
We passed 1 hour earlier than the standard duration.
I felt the trail from Mt. Oku-Hotaka to Mt. Kita-Hotaka was harder.
We keep walking to Tengu on the rest of the ridge lines.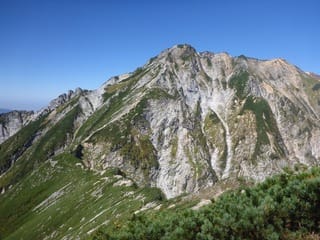 The slope is called "Tengu-no-Okudari", or big descending of Tengu, which is a big ascending from our direction.
It is very slippery and seemed harder for descending.
Ascending on the wall.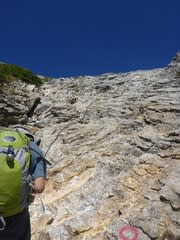 A strange rock. It looks like a lizard watching us.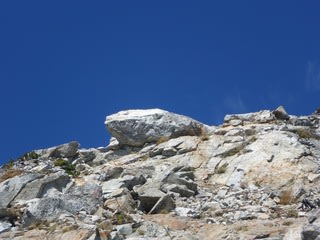 Mt. Yari is far in our sight.
Looking back Kaerazu ridge line.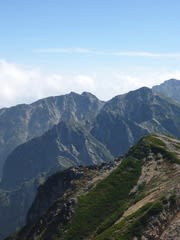 The view reminds us how dangerous it is.
Arriving at Tengu at 13:05.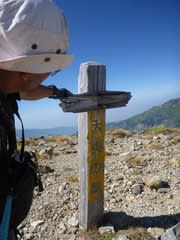 This is the highest point of the day.
We looked down Hakuba village.
The ridge line up front is the trail we climbed up to Mt. Karamatsu in the morning.
Then we enjoyed the nice trail and arrived at Tengu hut, at 13:25.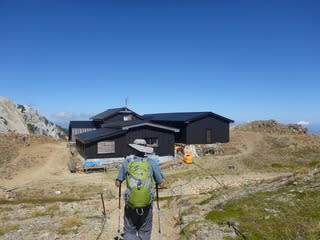 3 hours from Mt. Karamatsu. The standard duration requires 5 hours.
Cross point to Yari-Onsen spa at 13:44.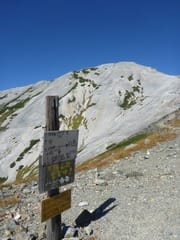 We walk down on Oideppara.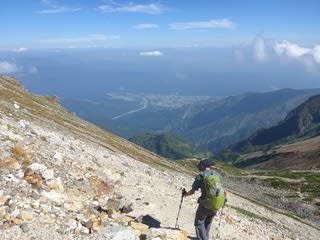 It is slippery and not comfortable.
Skiing on Oideppara is much better than walking.
The slope of Oideppara, where
we skied down in May
.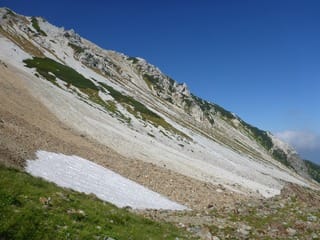 Colored leaves of Japan rowan.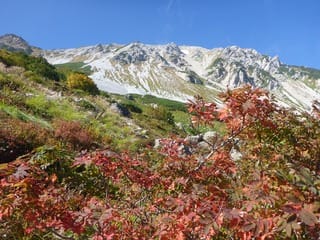 We looked back the ridge line of Kaerazu.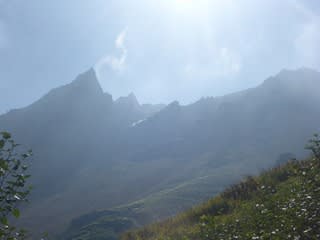 There was snow on the bottom of the valley.
I camped on the ridge two years ago
. We cannot go there in summer.
The hut of Yari-Onsen comes in our sight.
The trail is slippery.
Arriving at Yari-Onsen spa at 14:48.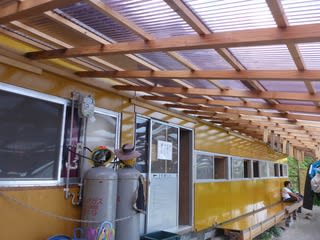 It took 1 hour 20 minutes from Tengu hut, while the standard duration is 2 hours half.
We met our snow mate there. He walked after us in the same pace.
We took a long break here and enjoyed the spa.
Leaving the spa at 15:35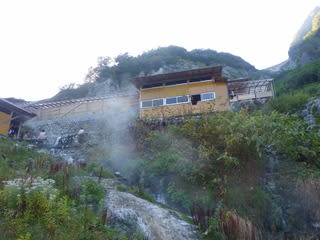 We recovered after the spa.
A long way to Obinata Kor.
Passing through Obinata Kor at 16:34.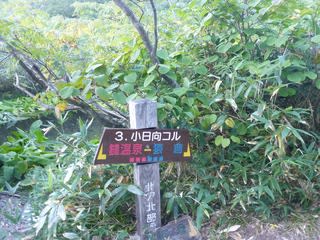 Just 1 hour from Yari-Onsen spa. The goal is close.
Nice ridge line of Mt. Korenge and Mt. Hakuba-Norikura.
It was a nice day for trekking today.
Arriving at Sarukura, the goal of the day at 17:36.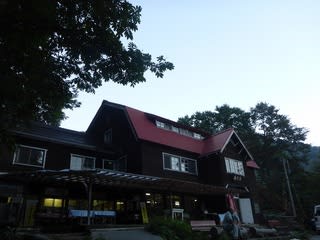 20km, 9 hours 18 minutes, such a long way.
It was long and tough, but with the nice weather and the nice view, We had a full trekking through Kaerazu.