Cycling-Day 12-Yabitsu Pass/Mt.Ooyama(DNS)/Mt.Takao(161.0km)
Yabitsu pass, another hill climbing place in Kanto area, following the other place
Hakone last week
.
Day 12, 128days for cycling, total distance 9,444.9km, total climb 129,348m
Yabitsu Pass/Mt.Ooyama(DNS)/Mt.Takao 5:32-17:39
Distance today 161.0km, climb 1,545m, duration 8:25, avg speed 19.1km/h, burned 3,628kcal
Gear: Eurasia 520
Today's route
I planned mountain climbing in Hakuba this weekend, but the weather seemed uncertain.
The weather in these weekends were not on my side.
Then I chose Yabitsu pass. I attempt to climb Mt. Ooyama this time, that I gave up
last time
.
I woke up early to prepare for climbing.
At 5:32 I started.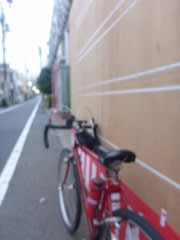 The wall is for a town festival. It is a festival season now.
Marukobashi bridge, as my gateway to the West.
I worried about the thick clouds ahead.
I stayed on Nakahara street all the way. I was often stopped by red traffic signals, which slowed me down.
Leaving the town I could run faster.
At 7:13 crossing Sakai river. 1 hour and half so far.
At 8:08 entering to Route 246. 2 hours and half so far. Tanzawa mountains became in my sight.
The clouds still covers the mountains.
At 8:42 arriving at Naganuki. 3 hours+ so far.
I could remember the route
last time
, and I could run smoothly this time.
I charged at Seven Eleven down there, and started for climbing at 8:50.
Now how long will the time be?
I could manage the pace better than last time.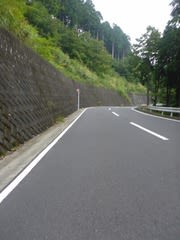 At 9:56 arriving at Yabitsu pass. 1 hour and 6 minutes for climbing duration.
It is much slower than other people, but let me excuse that I ran 55km before climbing on my heavier bike with fewer gears.
Now I wanted to climb to Mt. Ooyama, but it was raining again.
I have never been here without raining since my first visit of my childhood.
The entrance for mountain climbing.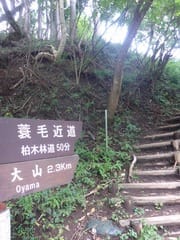 Therefore the mountain climbing to Mt. Ooyama was DNS(Do not start).
On the way back I chose the other trail from the pass which is called "Ura-Yabitsu", or the backside of Yabitsu.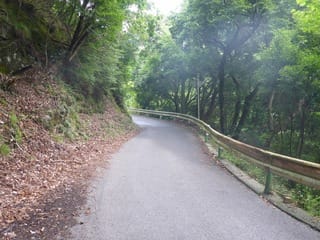 The trail is narrow, with poor visibility and wet.
The descending was not comfortable.
I was sulking for giving up mountain climbing and driving slowly.
At 10:50 at Lake Miyagase.
In Kanto area the water supply shortage has been announced.
The lake looks very shallow.
I just came up with an idea to Mt. Takao, after going up to the North.
I remember
the route when I rode from Tama river to Sagami river two year ago
.
It is not late so far, and I can even climb up Mt. Takao.
The idea energized me.
At 11:49 at Tsukui lake.
This lake is also shallow.
At 12:41 arriving at Takaosan-guchi, as Mt. Takao base area.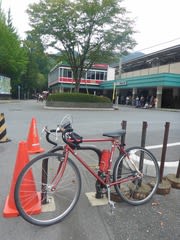 The weather still looked uncertain, but I could not give it up otherwise I might go into the lose games.
The standard course time is 90 minutes. It may take about 3 hours for the round trip.
It may be late if I leave here at 4pm. How can I do it quickly.
Continue to
Trekking-Day 5-Mt. Takao(7.7km)
.
I came back to the base area at 14:30. Half of course time trip gave me much time to go home.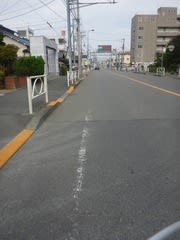 I felt comfortable in the high speed wind. The mountain climbing on Mt. Takao was not so much cool.
At 16:02 crossing Yotsuyabashi bridge.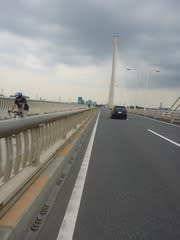 Then I ran along with Tama river.
Beautiful sunset.
I cannot believe it will be rainy tomorrow.
At 17:39 back to the start point. The festival had begun.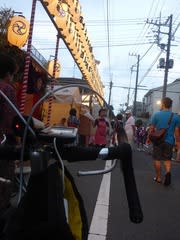 I have wanted to do cycling and mountain climbing in a day. It was good to realize today, although Yabitsu pass and Mt. Takao is a strange combination.