Trekking-Day 3-Mitsumata(17.1km)
Day 3 Mitsumata 7:19-12:38
Distance today 17.1km, climb 587m, duration 5:18, avg speed 3.2km/h, burned 1,367kcal
Continued from
Trekking-Day 2-Kumonotaira(17.1km)
It is the day to go home.
We woke up in the fog.
Then it started raining. The forecast said it would be sunny.
We could see the blue sky for a moment, but it rained again.
We packed the tent and left the mountain.
We wanted to go through Mt. Mitsumata-Renge and Mt. Sugoroku, but...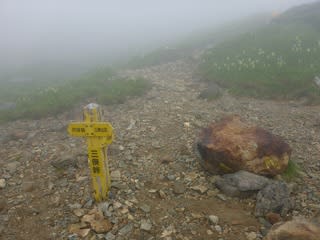 The weather did not become good at Mitsumata pass.
We gave up going the peaks and just traced the trail we came.
The lower area seemed under clouds.
We could have seen Mt. Yarigatake in this direction.
We saw it last evening, that became the last time to see.
Depressing walk.
We found feces. It is probably a bear's.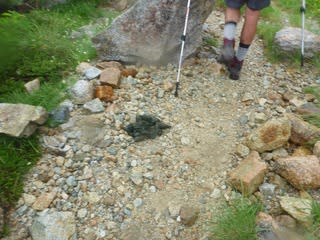 We did not see it here two days ago.
Sugoroku hut became closer.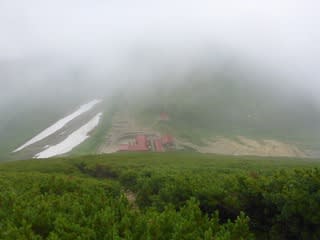 Arrived at the hut at 9am, quicker than the standard.
The rain stopped for a while, but sooner it started.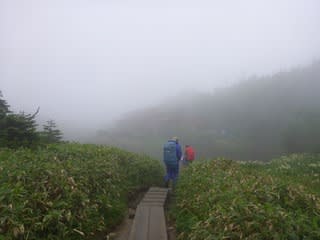 We were basically chased by the rain.
We walked faster and arrived at Kagamidaira hut at 10:30.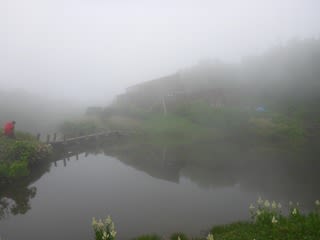 We wanted to see Mt. Yarigatake on the surface of the water, but we saw just the hut.
The rain stopped in the lower area, but it became hotter.
The entrance of the trail was on our sight.
We enjoyed three days although the approach was in the rain. We were very lucky that it was sunny when we walked in Kumonotaira.