Trekking-Day 2-Kumonotaira(17.1km)
The most secluded region in Japan, Kumonotaira.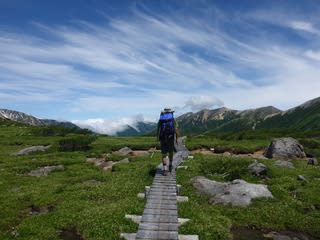 Day 2 Kumonotaira 7:35-16:27
Distance today 17.1km, climb 1,345m, duration 8:52, avg speed 1.9km/h, burned 1,367kcal
Today's route
Continued from
Trekking-Day 1-Mitsumata(17.4km)
Beautiful morning.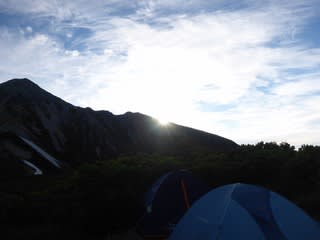 Today we aimed to Kumonotaira, for the ultimate destination of this trip.
Kumonotaira is called the most secluded region in Japan. It is a beautiful highland with many flowers, but at least one night stay is required from each trail entrance points.
We go through Mt. Washiba and Mt. Warimo before Kumonotaira.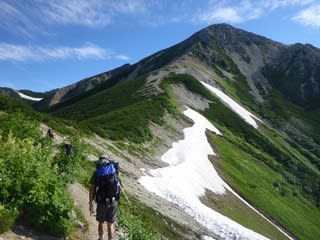 Climbing up 300m high from the hut.
We could walk quick with carrying a light bag, as we left unnecessary stuff in the tent.
Arrived at Mt. Washiba, in a half duration of the standard.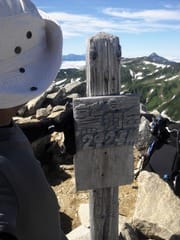 Tremendous view.
Mt. Yarigatake in the front.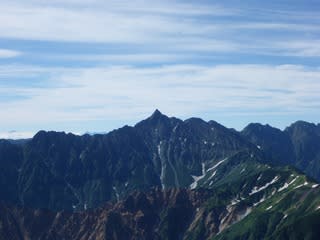 On the right Mt. Hotaka and the peaks.
In last autumn we walked on the ridge line
. I still do not believe I walked there.
Hakuba summits.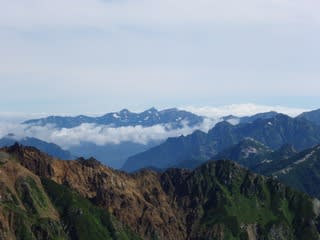 The most of mountains in Japan Northern Alps are seen from here. Probably only Mt. Tsurugi is out of the sight.
And Mt. Fuji.
Entering to Mt. Jii via Mt. Warimo, the trail becomes getting on the highland.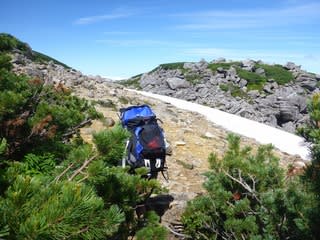 Arrived at 10:21 at Mt. Jii.
Mitsumata hut is far in our sight.
Going down from Mt. Jii, we saw the camping site of Kumonotaira.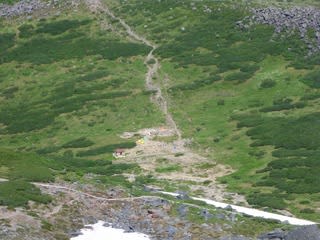 There was a trail straight to the site, but it is closed now to preserve the plants.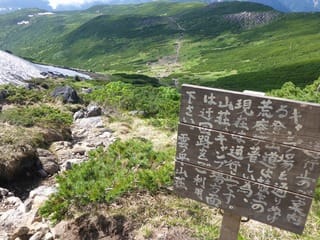 The bypass trail was loner.
The trail becomes boardwalk.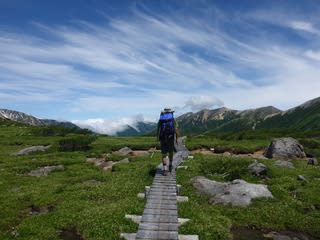 We are entering into Kumonotaira.
There are a few sites such as Swiss Garden, Alps Garden, Greek Garden, Alaskan Gareden.
Swiss Garden is the first one on our approach.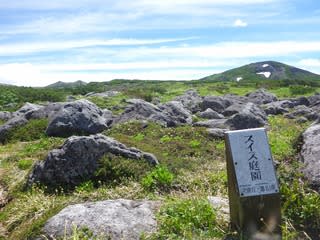 I have never walked in Swiss mountains. I don't see what is Swiss here.
Takamagahara is in our sight.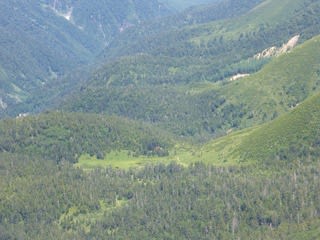 This is also a secluded place, where we would like to visit.
Full of flowers of Veratrum stamineum.
The blossom like this is the most one last ten years.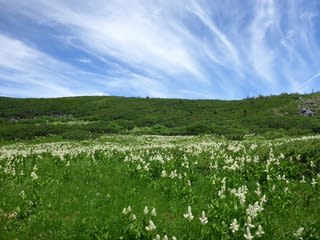 Arrived at Kumonotaira hut at 11:49.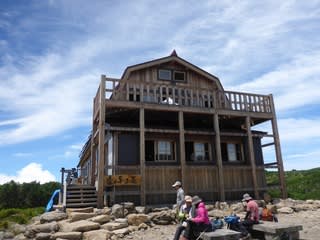 Nice atmosphere.
Fried noodle for lunch.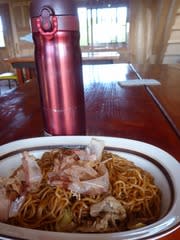 After lunch we walked around Kumonotaira.
Mt. Bah and Alps Garden.
Mt. Yarigatake is seen on the very left.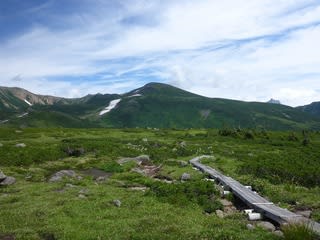 We walked further.
This is Oku-Japan Garden.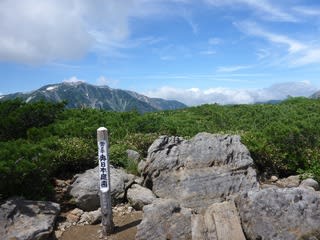 The mountain behind is Mt. Yakushi.
We walked to the end of the boardwalk.
We are entering to a deep forest.
Alaskan Garden.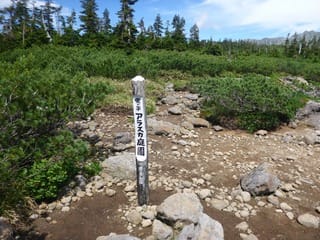 There are three valleys in the middle of Mt. Yakushi.
We skied down there eight years ago.
I remember I was totally exhausted to climb, as I was just a beginner.
At that time I must have seen Kumonotaira from there, but I did not know about it.
Walking back.
At 14:05 walking through the hut.
The signboard says "Use engine brake".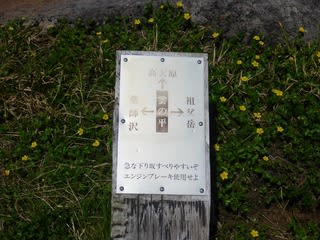 What does it exactly mean?
We walk back to Mitsumata on the side of Mt. Jii, with seeing Kumonotaira.
Nice trail of highland walking.
That thick snow field still remains.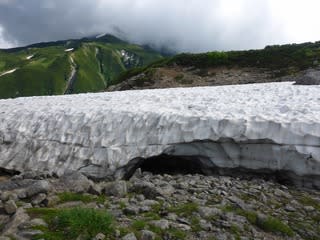 This probably remains to the next winter.
Walking down in the forest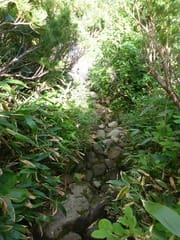 to a white string on the bottom of the valley.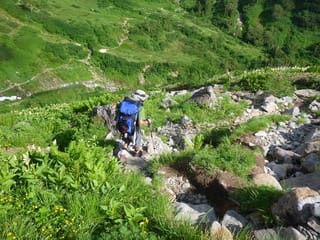 This is the origin of Kurobe river.
There is a rope over the river.
This looks useless.
We found a cross point just above here.
The stream of Kurobe river.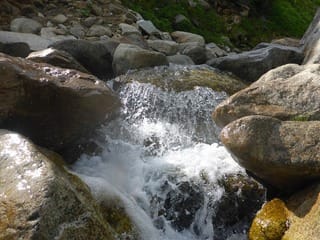 A photo in the water.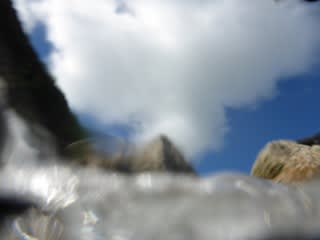 The water is very cold.
Look back to Kumonotaira.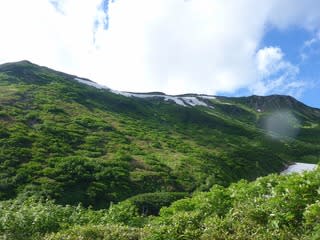 Then we arrived at 16:30 at the hut after climbing back.
The standard duration is 3 hours 20 minutes, while we walked in 2 hours half with several breaks.
For the treatment we had beer.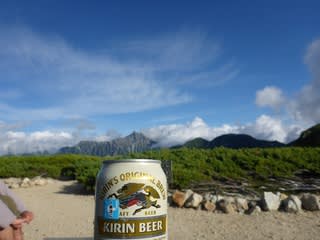 Cheers to Mt. Yarigatake.
Mt. Mitsumata-Renge.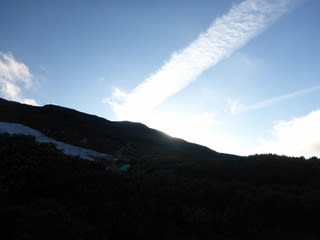 And the sunset of Mt. Yarigatake.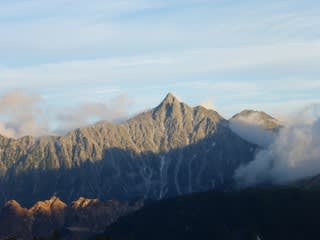 After dinner we had coffee again.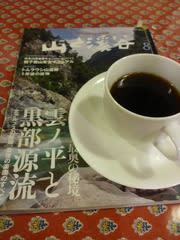 Very good day with good weather and nice scenery.
Continued to
Trekking-Day 3-Mitsumata(17.1km)