Trekking-Day 1-Mitsumata(17.4km)
Golden route in Japan Northern Alps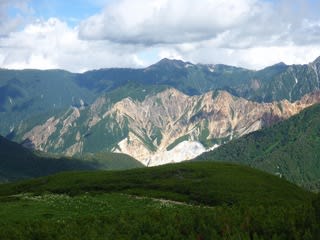 Day 1 Mitsumata 8:06-15:47
Distance today 17.4km, climb 1,952m, duration 7:41, avg speed 2.3km/h, burned 1,378kcal
We attempted a trekking to Kumonotaira for three days from Shin-Hotaka Onsen.
A standard time requires over four days, but we planned in three days, which should be in much quicker pace.
I was nervous because this is the first trekking in this season.
It would be raining in Friday morning according to the weather forecast.
We delayed the start and left the entrance of the trail at 9am, which is much later than usual.
It started raining on higher altitude.
Very humid and uncomfortable.
Arrived at 11:30 at Kagamidaira hut. The standard duration was 3 hours 50 minutes, and we arrived in 2 hours half.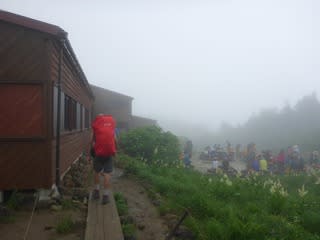 I was exhausted in humid and hot weather, but we could achieved quicker than the standard duration.
Walking across the snow field.
We walked on the snow field several times, but a crampon was not necessary.
Finally the blue sky came out at the ridge line.
I was totally exhausted and arrived at Sugoroku hut at 13:47. The duration was as long as the standard.
I had to slow down due to the humidity earlier.
This was the original destination but we have time to walk more.
I was too exhausted to walk more, but recovered after drinking cold water at the hut.
Now I would be able to go further to Mitsumata hut.
Now walking again.
We could enjoy the beautiful ridge lines of Japan Northern Alps.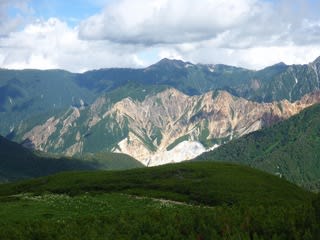 We expected the very this view.
Mitsumata hut became on our sight.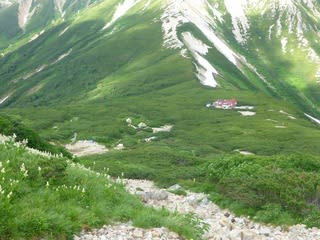 Arrived at Mitsumata hut at 15:56, in quicker duration than the standard in 2 hours 20 minutes.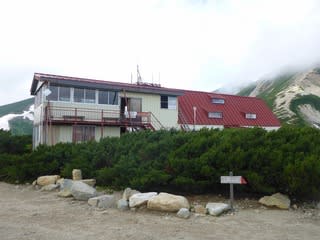 The hut was very crowded and one Futon (mattress) had to be shared with two persons.
This time we carried our tents.
We set the tents. We had plenty space as it was Friday.
For the treatment we had coffee.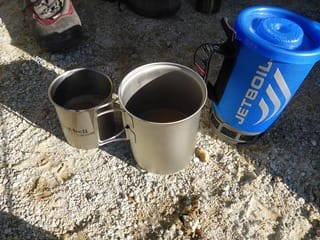 There was no space in my bag to put a coffee cup. The middle one in the picture is actually a cooker.
In front of the hut we could see the magnificent view of Mt. Yarigatake.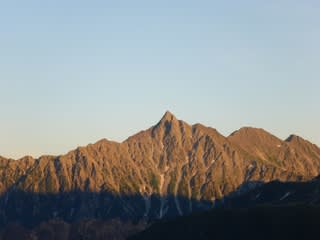 Finally we got that view.
The last sun light was on the top of the Mt. Yarigatake.
After the sunset it became very cold.
A heater was lit in the hut.
I was wearing a middle layer and a jacket.
The hut serves coffee.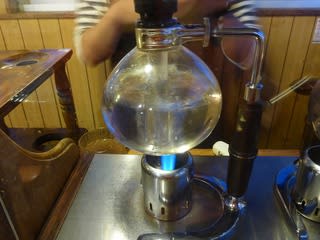 They use siphon coffee maker.
For a treatment to me, I got a cake set.
We relaxed there by 9pm.
Then we went back to our tents. The sky was full of stars.
Continued to
Trekking-Day 2-Kumonotaira(17.1km)