France -day 9-Paris
Continued from
France -day 8-Montpellier/Paris
.
Today we go shopping in Paris.
We tried breakfast in our neighborhood, but we could not find a good place.
Then we went straight to Printemps.
Our breakfast.
At La Maison du Chocolat underground floor of Printemps.
They have a good deel for three macarons, which I could not stop ordering.
The chocolate cream in it tastes rich.
Then we spent almost all the day in Printemps and
Galeries Lafayette.
It was annoying to go out for lunch and we took lunch in Lafayette.
Sushi box in 15 Euro!
The taste was not bad, but it is much more expensive than a nice lunch sushi menu in Tokyo.
Also, a sushi take-out store in my neighborhood in Tokyo discounts in 50% after 1pm, and the lunch pack like this costs about 200yen, or 1.5Euro.
Gorgeous celling in Lefayette.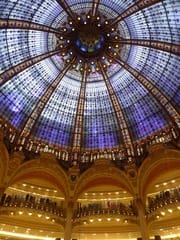 We tried to find a good place for dessert, but the iPhone accessing in Lafayette was out of range probably due to the rigid stone building. and we could not find a place.
And the shower in the afternoon outside.
Then we found a cafe, Café Pouchkine in Printemps.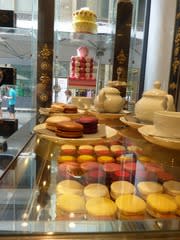 Full of macarons.
The taste was different from the "usual" ones but very good.
Chanel has an entry limit in the store. There was a long que.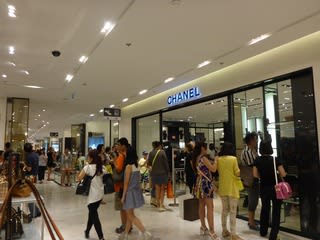 In Printemps and Galeries Lafayette there were many tour groups of Chinese.
Also there are many Chinese-speaking staffs.
It is like that Japanese were shopping there 20 years ago. It is a déjà-vu to me.
On the other hand there are few Japanese people, and It is a shame to see the "Sunrise" Japan is actually sun-setting.
I have been in Printemps ten years ago, and the atmosphere is different. It was more casual, but now it is more luxury.
I feel the change of the age, that H&M, fast fashion is next to Printemps.
We bought a suitcase there for the shopping stuff.
It costed as much as it in Japan, but a little inexpensive considering the VAT refund.
The many Chinese tourists seemed to buy too much, and they also bought the suitcase. I saw many varieties in the morning but in the afternoon the choices are less.
For dinner we went to a small galette restaurant in our neighborhood, which we found last night.
The seats were full and we had to wait for a while.
The guests come, eat and go quickly and we could get in soon.
The staff are too busy to give us the best service but the taste was good.
La Crêperie des Canettes
10 Rue des Canettes, 75006 Paris
Continued to
France -day 10-Paris
.