France -day 6-Morning market in Arles and Montpellier
Continued from
France -day 5-Les Baux/Saint-Rémy-de-Provence
.
We went out for breakfast and found a morning market.
Fresh vegetable, meat, fish, and even macaron!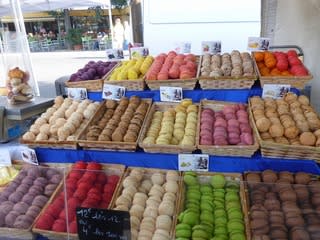 We bought bread and some snack.
We took them as breakfast at the hotel.
Then we checked out and went to Van Gogh Bridge by taxi.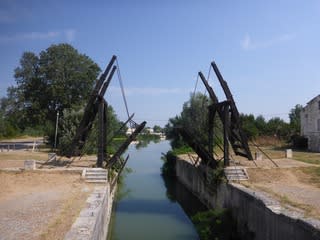 This was drawn in his painting, but not the real one.
It is far from the downtown and we asked the driver to stop by here on the way to the railway station.
The taxi is waiting for us.
Train ride from Arles to Montpellier.
A vending machine for ticketing. English menu is available.
A ticket must be inserted into this machine for validation.
A train to Avignon.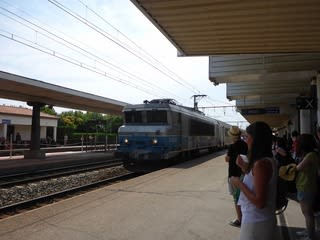 We got an inspection for a ticket. Without validation may arise a fine.
Avignon for transit.
We had 1 hour and half for transit.
We tried a short sightseeing there, but we could not deposit luggage, and the taxi refused to go and come back to the station.
Porte de la Republique, just in front of the station for a little sightseeing.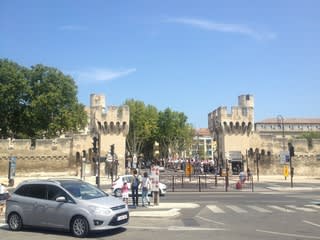 Finally we got the next train to Montpellier.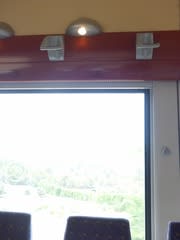 The hooks are for hanging the front wheel of a bicycle.
Arrived at Montpellier.
The platforms were dark, but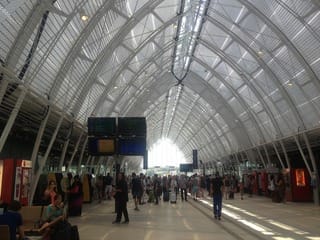 The upper promenade is open and bright.
It is still under construction ongoing and the taxi waiting area was far.
Checked in the hotel.
The building is built in medieval period and the rooms are lovely.
Therefore the floor is not flat.
Sightseeing in the downtown.
L'Arc de Triomphe.
Trick art on the wall.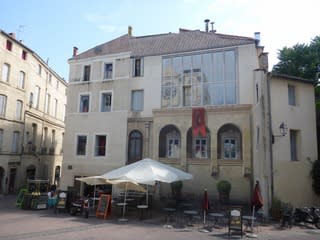 Which windows are real?
For dinner we went to
Tamarillos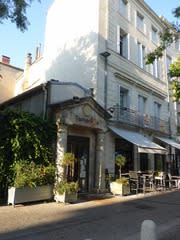 Every plate was nice, but the dessert was tremendous.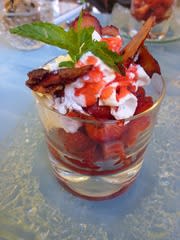 Plenty strawberries.
The chef is originally a pâtissier and that's why the dessert is a kind of 'main'.
L'Arc de Triomphe at night. We enjoyed the dinner so that long.
Continued to
France -day 7-Montpellier
.