France -day 4-Arles/visiting sites of Van Gogh
Continued from
France -day 3-Aix-En-Provence/visiting sites of Cezanne
.
Today we leave Aix-en-Provence for Arles. Before leaving Aix, we went to a morning fair.
It is held on Tuesday, Thursday and Saturday. It is Thursday, toda.
8am seems too early and most of the stores are closed.
PLACE RICHELME.
They sell fresh vegetables.
It seems too early and the customers are few.
Officers are riding on MTBs. Looks cool.
We went back to the hotel and got breakfast with bread and tarte au ponne.
This bread was very delicious, which bought at des pains qui parlent.
We got tarte at a brasserie where we bought éclair yesterday.
After checking out the hotel we went to the station.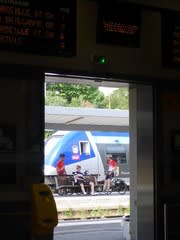 Road bikers are about to get a train.
In most of European countries a bicycle can be loaded into the train.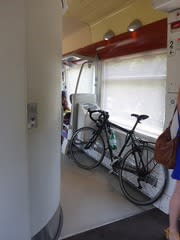 Also easy to access to the train, where no checking gate for tickets.
In Japan, instead, a bicycle has to be departed and carried in a bag and you go through the ticket gate carrying with the bag.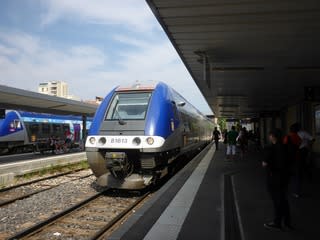 There are two railway stations in Aix-en-Provence. One is here, a local station and the other one is for TGV, far from the downtown.
For the trip like us from a small city to a city, the local station is more convenient.
We come back to Marseille Saint Charles station.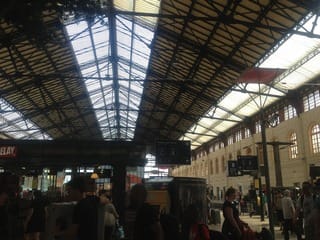 We transit to another train.
Through such fields,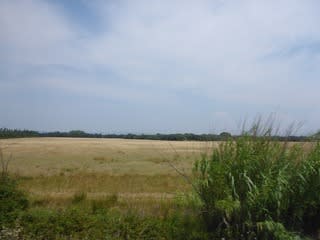 We arrived at Arles.
The room was not ready yet. We left laggage and went out for sightseeing.
Place de ka Republique.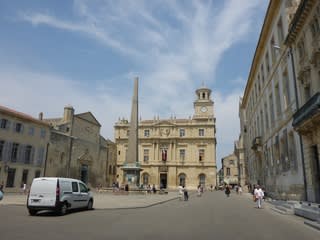 And walking further, at Place du Forum, there is a cafe called "Le Cafe La Nuit".
It is famous for Van Gogh and his painting "Terrasse du café le soir".
We settled down here for lunch.
The taste was good.
After lunch we walked for sightseeing again.
River Rhone. The river runs a little faster.
Next place was the hospital where Van Gogh was staying, Espace Van Gogh.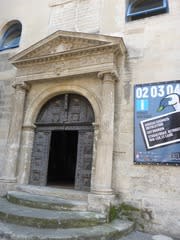 I did not understand I was told the admission fee was 25 Euro.
There was an exhibition and the total cost was close to the amount.
It is free for just looking around the building.
Attrium, that Van Gogh painted.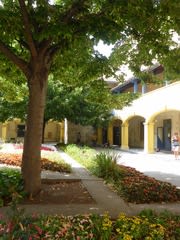 Then we went to a Roman arena.
Inside.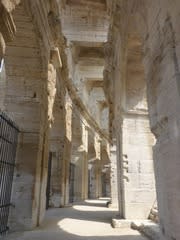 There was an activity for children to recover the fight of Roman.
The architecture is collapsed and the upper seats are already lost. The seats are recovered with iron skeleton.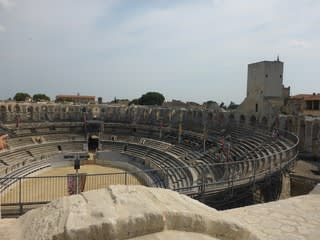 We see the city from the top of the tower.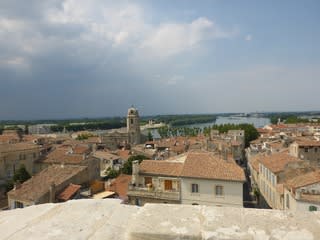 The black clouds are approaching and we hear the sound of thunder.
We checked in the hotel and went out for dinner.
Fortunately the shower did not come.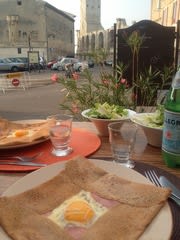 A restaurant of crepe, where we found a few hours ago.
Taste and the view was good.
Chez Mam Goz 18 Rue Porte de Laure 13200 Arles
Continued to
France -day 5-Les Baux/Saint-Rémy-de-Provence
.