France -day 3-Aix-En-Provence/visiting sites of Cezanne
Continued from
France -day 2-Marseille/Aix-En-Provence
.
Today we go for sightseeing in Aix-en-Provence all the day. Aix-en-Provence is the place beloved by Paul Cezanne, and we visit the sites of him.
Breakfast at a brasserie nearby our hotel.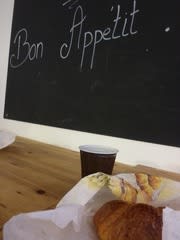 Two pastries, coffee and tea in 5.1EURO. It's good for Japanese.
Walking down on Mirabeau, reached to Place Charles de Gaulle.
There is a tourism center in front of this place.
They offer a Cezanne pass, which includes three major sites of Cezanne, but two of them are tours, and one has finished already.
They advised us to but a single ticket for the atelier.
A bus #5 takes us to the atelier.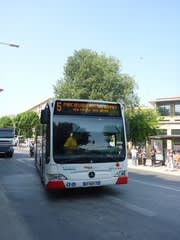 This bus runs very few, twice in an hour.
The tourism advised us to get off at Cezanne, but the driver told us to get off at Beisson, one stop earlier. Beisson looks a little closer to the atelier.
The atelier is located lower of the slope, but we wanted to see another place, Les Lauves, where Cezanne drew pictures often.
Walking up along Av. Paul Cezanne for about 10 minutes and you will see the signboard of "Maison de retraite Paul CEZANNE".
Turns left at the signboard of "Terrain des Peintres" to the pavement.
The pavement to Les Lauves.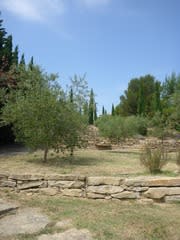 Here is the top.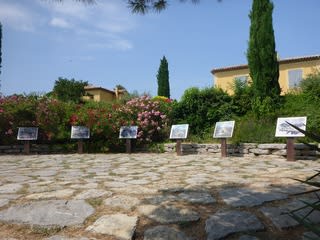 Several pictures of Cezanne are placed.
And turning around you see Mt. Sainte-Victoire,
just like his painting.
Today the air was not clear.
It was hot, but the wind was dry and cool.
We felt his days of painting here.
A cicada was buzzing.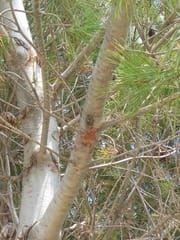 I heard cicada lives only in the south in France.
We walked down on Av. Paul Cezanne, and reached to Atelier Cezanne.
He also designed the house.
In the house there were many things he used for his painting.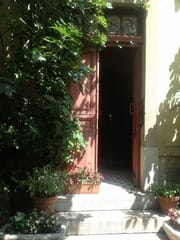 There is a very thin vertical hole on the wall, which is for carrying a large canvas out.
I understand why he designed the house by himself. That kind of tips is only brought by the person him/herself.
We walked around the garden.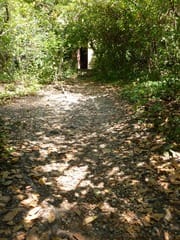 This looks like a MTB trail!?
We went back to the downtown, and took lunch at a brasserie.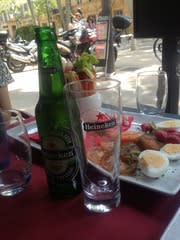 I am very happy to drink beer in day time.
After lunch we walked around the sites of Cezanne again.
There are metal paves on the street leading to his sites.
This is the final place of Cezanne.
The brochure on my hand has a map of his trail, but it is most convenient for our sightseeing in downtown. All streets and rues have name, and the map has them.
It is available in the tourism but it was given by Les Deux Garçons last night.
This is the house he was born.
We found a tea salon on the way back. They have Chinese, Japanese and other various tea.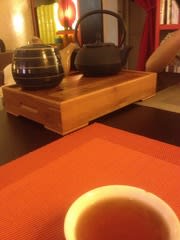 They use tea leaves for serving tea while most of cafe use tea bags which are available everywhere.
Plaisirs Des Thés
29, rue d'Italie 13100 Aix-en-Provence
Tél : 04 42 53 01 91
Then we bought éclair at the brasserie where we took breakfast.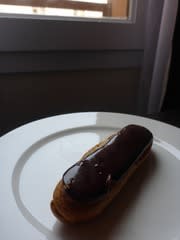 We ate at the hotel. It was delicious.
For dinner we went to a restaurant where I found on the web site.
The taste was really good.
The meal is usually too much for Japanese but this was not.
Ze Bistro
31 bis rue Manuel - 13100 Aix-en-Provence
Réservations : 04 42 39 81 88
A thunderstorm was approaching when we entered into the restaurant, but it eventually did not.
The air became colder and nice to walk. Continued from
France -day 4-Arles/visiting sites of Van Gogh
.