France -day 10-Paris
Continued from
France -day 9-Paris
.
Today we go sightseeing in Paris as well.
We woke up late and relaxed in the morning.
For the breakfast croissant of Poilâne and carrot rape of a super market Monoprix we bought yesterday.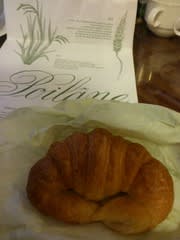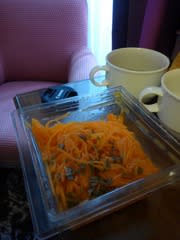 An idea to go to Louvre came up and went there, but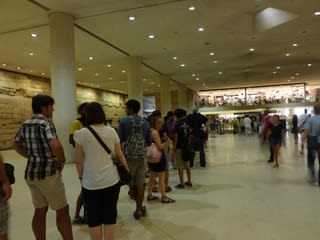 A very very long cue to buy tickets. It seems more than 30 minutes to go.
We knew the ticket has to be obtained in Japan in prior, and we realized it is true.
Then we gave up and go sightseeing further.
Then we visited the Effel tower.
Just getting off the subway we gound Association pour la Maison de la Culture du Japon à Paris on the way to the tower.
There was no exhibition today. But it was good to use the clean washroom.
The Effel tower.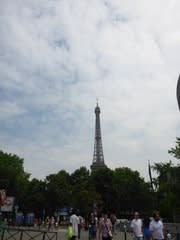 Under the tower.
Dynamic view from the foot.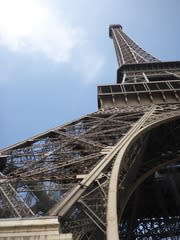 But it looks more beautiful from the further point.
A shot that most of sightseers does.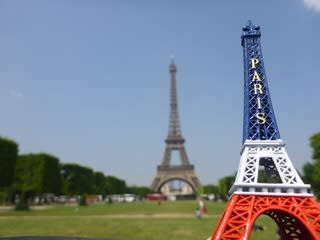 And another shot.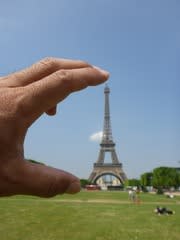 The we went to a famous chocolatier's atelier.
Very delicious.
La Chocolaterie de Jacques Génin
133 Rue de Turenne, 75003 Paris
In neighborhood there are some bicycle shops.
Then we went to Cite island.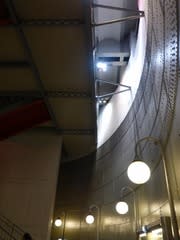 The subway station Cite looks like a submarine.
In this season Paris city builds a beach called Paris Plages on the north bank of Seine river.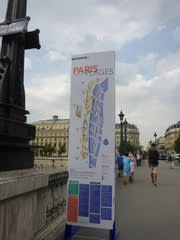 It is said that the beach is built for Paris citizen to enjoy the atmosphere of the beach, even it is artificial.
We walked along the beach, but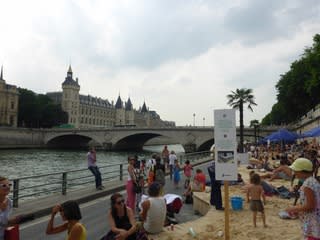 It is hot and not allowed to get into the water.
After the beach we went to a gelato shop, Berthillon, in Saint-Louis island.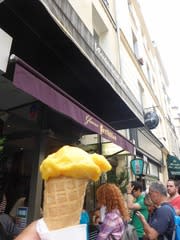 This is an old shop and we have been here for several times before.
They have some branches now.
The taste was good, but the service is a kind of old style operated by one man and Amorino, their competitor established after Berthillon, is much more sophisticated.
Walking back to the hotel with the view of Notre-Dame.
The thick clouds are approaching.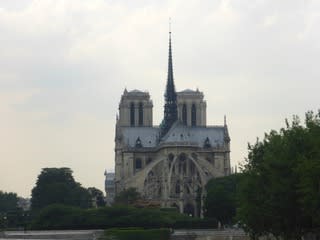 Just after we came back to the hotel, the rain started. We were lucky.
For dinner we just stopped by a brasserie.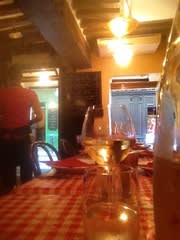 We ordered an entry and a main plate shared with us.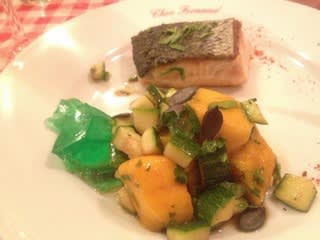 This is the main menu. The taste was good, except the weird jelly.
La Brasserie Fernand
13 Rue Guisarde, Paris
We always feel guilty to order one plate for two people, but we cannot finish as a Japanese.
We believe it is better than undone
Continued to
France -day 11-Paris
.