France -day 1-Marseille
We come to France for vacation. A flight from Japan to Europe usually leaves in day time, but this time I had to choose a midnight flight from Haneda, which is more expensive. The reception desk was not busy for midnight flight.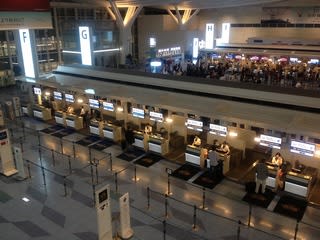 I could spend the day time before the departure. I slept in the flight very well. I usually watch movies but I even skipped a meal and arrived in Paris.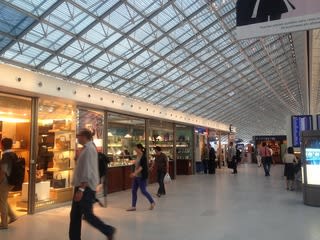 The midnight flight arrives in Europe early morning, that brings me enough time for sightseeing there.
With transit we came to Marseille.
This is the first time in Southern France for me. We took a taxi to a hotel in downtown, which costed 50 EURO. I did not have much cash and I was a little nervous. I should use a bus.
The arrival was too early and we could not check in right away.
We deposited our baggage and went sightseeing.
For the first spot we walked down to Vieux-Port.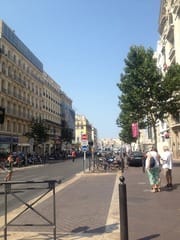 We have been to Malaga before. Marseille looks more busy and noisy, but I love that atmosphere.
A cute store.
Vieux-Port.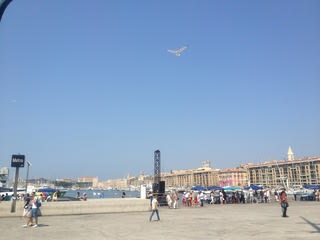 A nice port with good atmosphere. It is busy with the port cruising.
Very unique object.
We wanted to buy City Passes but the window was busy. Now we go for lunch first.
The restaurant we visited today was
Le Peron
.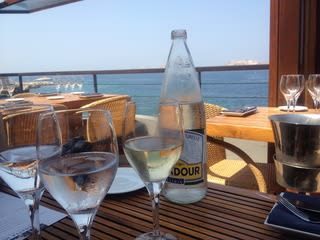 A nice restaurant. We booked through the web site when we were in Japan. English is available.
IF castle is seen across the sea.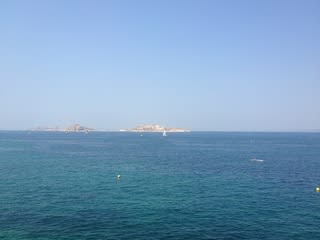 When we look down there is the blue water.
We ordered entries for each, and shared a plate for the main menu together.
This is my entry, bouillabaisse.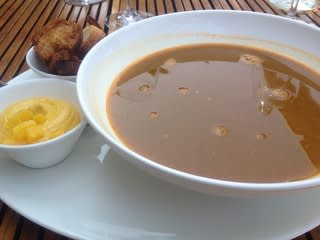 It is one of typical Marseille food. We really enjoyed the food.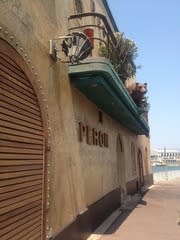 We got back to Vieux-Port and got the City Passes. 22 EURO each, and all public transportation is free.
Then we went to Basilique de Notre Dame de la Garde by bus with the pass.
#60 bus takes you just in front of the cathedral.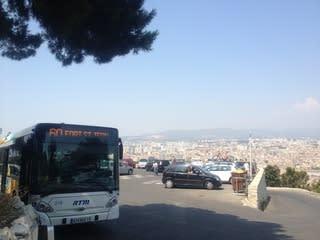 Nice view from here. You see all of Marseille.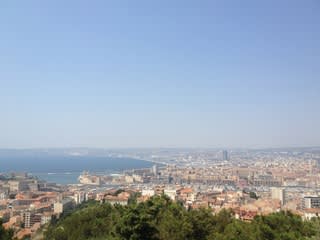 Beautiful blue sky.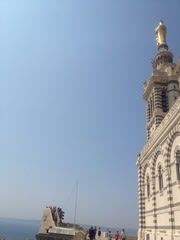 I could not take pictures inside, but of course the inside is beautiful. There are many things to wish the safety of the voyage, as Marseille is the port town.
For the next we visited Cathédrale Sainte-Marie-Majeure.
There were constructions around there and it was a little difficult to approach.
I saw the building on my guide book and really wanted to see it.
Then we checked in the hotel and went out for diner.
We walked around Vieux-Port and found a restaurant in the southern side of the port.
It is casual and easy to get in.
L'Annexe
38A Place Thiers, 13001 Marseille
It was ok to order just one plate.
My wife got bouillabaisse and I took fish of the day.
The fish was just grilled. The taste was light but I love this taste as a Japanese.
That's exactly how a Japanese eat fish.
At 9:30pm. It was getting dark.
Nice atmosphere at the port in sunset.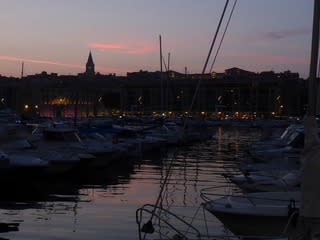 Continued to
France -day 2-Marseille/Aix-En-Provence
.