Ski day 73 at Tateyama -Day 2-
Probably this is the last ski for this season.
73rd day for this ski season, 34 days for powder, 25 days for backcountry, telemark for 17 days
Tateyama 8:15-14:30
Gear: Teneighty GUN+GARMONT RADIUM
Continued from
Ski day 72 at Tateyama -Day 1-
.
It was foggy in the early morning. We stayed at the cabin to wait for the clear view.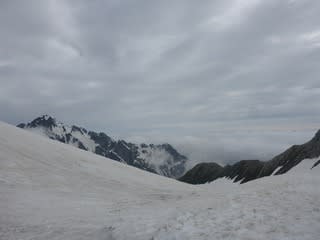 The view comes back. Now we go.
Today we go to Mt. Tsurugi-Gozen.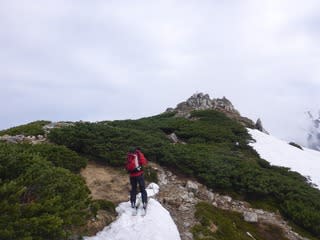 The trail to the mountain the snow has gone several times.
The peak.
Actually this is the first time to come to the peak, although we skied here many times.
Usually it is covered with the snow, and we could not see where the peak is.
The drop point.
It was good.
Not much the rain gullies.
We reached to Tsurugisawa valley and now climbing back.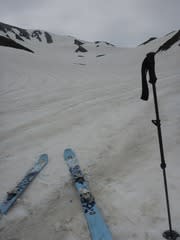 The valley was covered with the gullies.
Then we came up to the drop point again.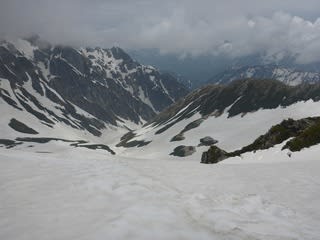 The second run.
It was also nice.
We saw a ptarmigan very close.
The foot prints.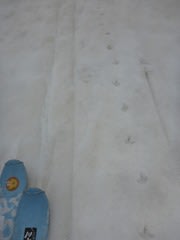 We skied down three times on the same place.
This will be the last ski run for this season. We really enjoyed it.
Hike to the cabin.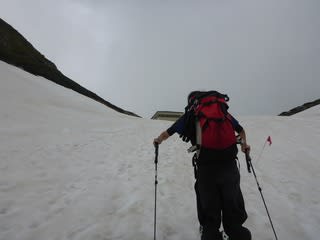 This will be the last time to see Mt. Tsurugi for this season.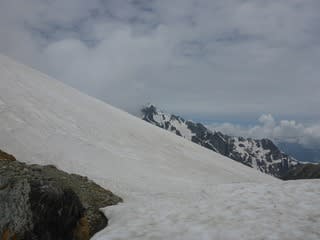 We miss it.
We had to walk for a while on the way back to Raicho-zawa.
We ski down on Raicho-zawa.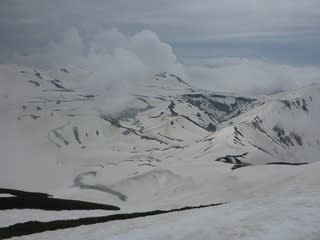 This is an extra run but usually this slope is not good.
Today it was not so bad.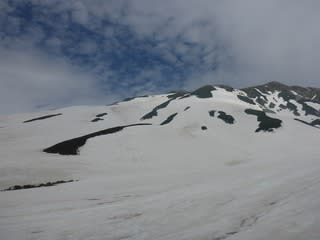 Then it is really the last run.
We go back to Murodo through the dozer trail.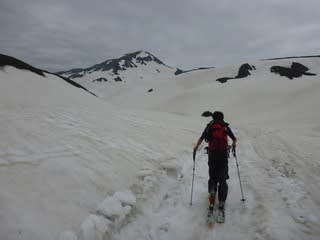 To the station.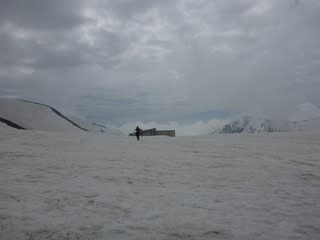 We look back at Tateyama.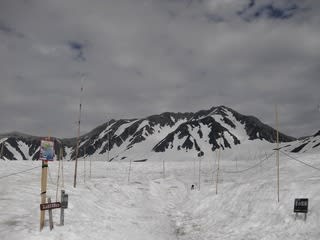 Thanks to the good season.
Kurobe dam station.
10 minutes before the departure, but there is a long cue already.
I was not the only skier but there were few. Many were the sightseers.
Green mountain in Hakuba.
It was like a dream that I skied today.
By the way my jacket was found at a station on the way.
Thanks to someone who found.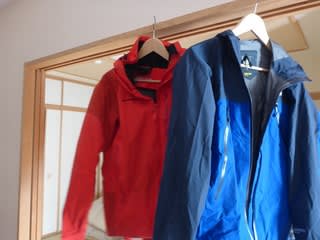 The left one was the jacket I lost and found. The right one is the new one.
I have skied every weekends except last week since last
November 18
, but the end approaches.
Today may be the last day for skiing in this season.
I wish to ski one more, but it is only if the weather permits, as a rainy season.
I thank to everyone we skied together.
We wish the pleasant season next year.