Ski day 72 at Tateyama -Day 1-
During the rainy season.
72nd day for this ski season, 34 days for powder, 24 days for backcountry, telemark for 17 days
Tateyama 10:00-15:00
Gear: Teneighty GUN+GARMONT RADIUM
Good weather in Hakuba. Green mountain and blue sky. Not like for skiing.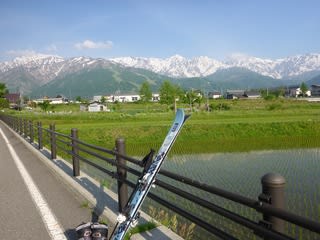 Ougizawa.
Looks like summer season.
Kurobe dam.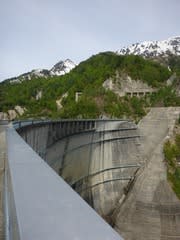 It's been 6 months since
I visited here
.
When I visit the dam, the top of the dam is icy. The view is very different.
I arrived at Tateyama.
Now the view looks for skiing.
Here I got a trouble.
I lost my jacket, which I put on my backpack.
I might drop it somewhere on the way.
No way to go without a jacket, even in June.
Fortunately there is a Northface store here.
I bought a Jacket at a regular price, which was unexpected expense to me.
We walked up here.
Today we aimed to Mt. Oyama.
The climbing skins worked well, but at the last hike the snow was very slushy.
We switched to crampons for the final approach.
Now we arrived at Mt. Oyama.
The highest mountain in Tateyama, 3003m above the sea level.
There is a shrine here. We worship here.
We could see Mt. Fuji.
Mt. Yarigatake.
This is the first time to worship here.
When I come here, it is covered by ice and snow, and it is too windy to worship.
Very calm weather in June.
After worshipping we ski down.
This is the first time to ski down in such a late season.
We don't know what the condition is.
It was good.
Usually the terrains are curved by rain and become very bumpy in this season.
We could ski down without such bumps.
The lower part had some bumps, though.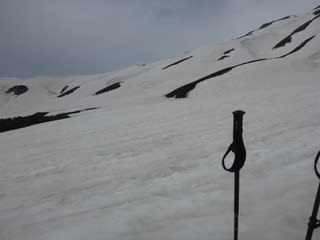 Here we climb up on Raicho-sawa.
It was very hot. It's really in June.
My climbing skins got a trouble on the way.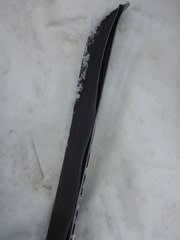 It folded in half and got slippery. I can't believe it.
The ridge line was very close, but I had to switch to crampons.
My climbing skins, Gekko, have many troubles.
We came up to Tsurugi-gozen.
Mt. Tsurugi, its magnificant apperance.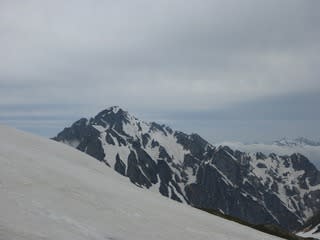 I like this mountain.
Here the cabin is where we stay tonight.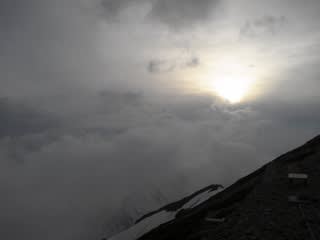 Sunset over the clouds sea.
The sunset would be very beautiful over Tateyama, and the night view of Toyama bay, which I could not see today.
It was a good day, though.
Continue to
Ski day 73 at Tateyama -Day 2-
.