Cycling-Day 3-Otari-Hotaru(43.0km)
To Hotaru, a Japanese Soba (buckwheat noodle) restaurant just like last week.
Day 3, 119days for cycling, total distance 8,411.2km, total climb 114,602m
Otari-Hotaru 12:22-15:00
Distance today 43.0km, climb 800m, duration 1:53, avg speed 22.7km/h, burned 991kcal
Gear: GIANT DEFY COMPOSITE SE
Today's route
We wanted to ride on MTB today, but the rain last night was heavy, and the trails must be very muddy. We gave up riding on MTB and chose road riding around Hakuba.
For Soba (buckwheat) noodles at Hotaru.
The mountains are covered with the clouds, but the village seemed ok.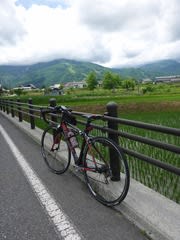 My friend was running so fast. I cannot see him any more.
Looks like the sky in summer.
On the way I suddenly speed down, and also felt some trembling from the front wheel.
I got my front tire flat.
I brought a spare tube with me. I changed the tube there, with a few minutes loss.
For about one hour riding we got to Hotaru.
Yesterday I ate Soba for lunch as well, but I love Soba here.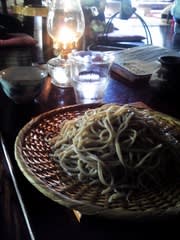 On the way back we got some rain drops but generally sunny.
Nice ride, but a little humid.