Cycling-Day 4-Shirasawa Pass(17.0km)
Short run before raining.
Day 4, 120days for cycling, total distance 8,428.2km, total climb 117,393m
Shirasawa Pass 10:10-11:10
Distance today 17.0km, climb 1,583m, duration 6:8, avg speed 18.8km/h, burned 357kcal
Gear: GIANT DEFY COMPOSITE SE
Today's route
Chance to rain in the afternoon. I feel unhealthy doing nothing, which brings me for a short run.
Shirasawa pass, good place for a short run.
Running through Minekata ski area.
It was hot on the base, but the shade was cooler.
Today I tried the best time of the section, as a training for the trekking season.
The section time was 1 hour by the old road bike, and 45 mins by this new bike.
The section time I made today was 38 mins, as the best time. The elevation was 400m, distance 8.5km.
I was very much exhausted. I can do at this pace for just coming here, but not for further runs.
The mountains were not seen very well.
Now descending.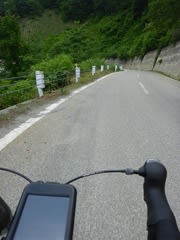 It was cold for the beginning.
I went down fast and the total work out was 1 hour. Good enough before the rain.