Ski day 71 at Mt. Fuji
Dynamic descent on perfect corn snow.
71st day for this ski season, 34 days for powder, 23 days for backcountry, telemark for 17 days
Mt. Fuji 6:15-16:10
Gear: Teneighty GUN+GARMONT RADIUM
This time I joined to
BanYa tour
for Mt. Fuji, as a regular event.
For preparation to the altitude sickness, I came to the start point last night and stayed.
Sunrise above the cloud sea.
Mt. Fuji appears very clearly.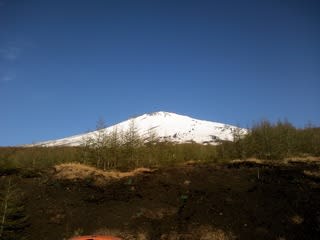 Looks like a good day.
We hiked 400m hight and put climbing skins from 2400m above the sea level.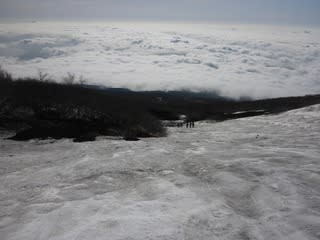 The snow got melt and skins worked pretty good.
We may go to the peak on the skins all the way.
This is the 6th time to ski on Mt. Fuji, but the first time for climbing skins at Mt. Fuji.
A friend of mine, Nissie came down to us.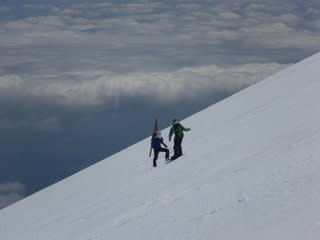 This was the second descent for him. How strong he is!
(And he caught up with us when hiking).
We hiked very slowly, and arrived at Okumiya (A shrine on the ridge line) at 13:10.
This is the second time to ski down from this side.
The highest point, at 3776m above the sea level, is a little far from here. We probably ski down from here.
We could see the Southern Japan Alps.
Then we looked around the crater.
We walked along the edge of the crater, and descent from the good point Nissie advised us.
For the beginning the terrain looked annoying, but the rest were the nice slopes.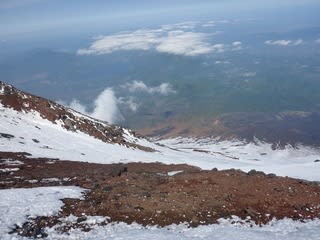 Perfect film crust.
Authentic!
It snowed a little two days ago, and we were afraid of stop snow.
We did not see any stop snow at the end.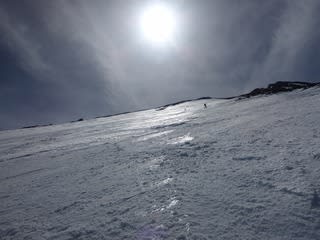 1300m down hill with over 40 degrees. We enjoyed the dynamic slopes.
The lower part was a little annoying.
We had to be very careful not to get scratches with the volcano ash.
We looked back to the mountain.
Mt. Fuji, I love it.
Only one time is very much enough to hike in the summer season, but we love to come again here, even though this is the 6th time.
We carried ski sets and walked on the sandy road.
Mt. Fuji was shining silver.
Thanks to the mountain.
Diner at Uokei. Pretty much seafood on a rice bowl.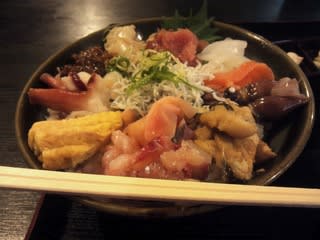 Thanks to the company today, and
BanYa tour
.