Ski day 70 at Mt. Hakuba-Yari
Dynamic down hill and nice corn snow.
70th day for this ski season, 34 days for powder, 22 days for backcountry, telemark for 17 days
Mt. Hakuba-Yari 7:45-16:15
Gear: Teneighty GUN+GARMONT RADIUM
We did not do any outdoor activity on Saturday due to the rain, but we got the sunny Sunday.
Today, we go to the white wide terrain just between the clouds on the left.
We tried to do so two weeks ago
, but we could not do it due to the strong stop snow.
At 7:45 we left Sarukura.
Last time the climbing skins did not work on the icy ground, but today it was very easy.
At 9:00 we arrived at Obinata kor (saddle).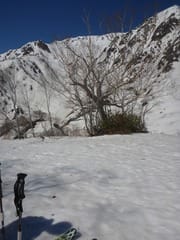 We arrived at Yari-Onsen spa at 10:15.
2 hours half so far.
We are probably able to attack the peak today.
Keep climbing.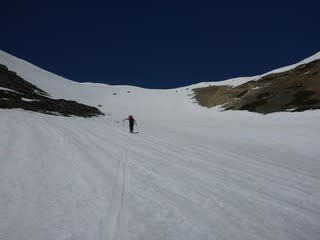 We climbed on Oidappara.
And looking down the Hakuba village.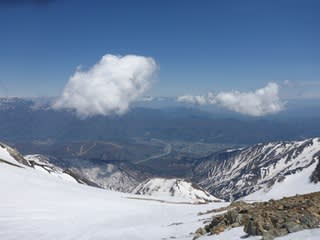 We arrived at the ridge line at 12:30.
We could fortunately come here by climbing skins as the condition was good.
2675m above the sea level. We earned 1600m so far.
We walked to the peak with carrying ski sets on our back.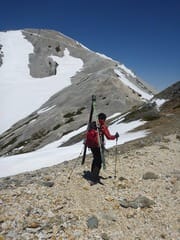 We could see the dynamic view of Mt. Tsurugi.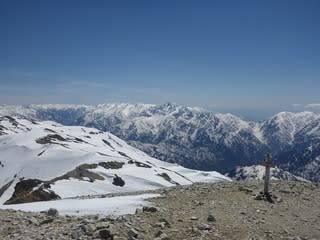 On the other side there are Mt. Hakuba and Mt. Shakushi.
This is one of my favorite view.
We reached to the peak of Mt. Hakuba-Yari at 13:15.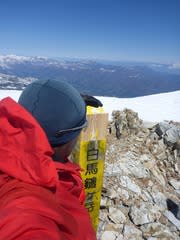 It's been since
a year ago
.
It was good the sign board was renewed. The old one was shaved by the tough weather, and the name of the mountain was almost erased.
Now, we descend from the peak.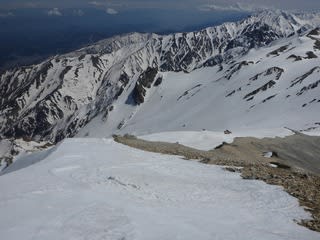 The angle is almost 45 degrees.
There are few large terrains where that angle continues.
Here we go now.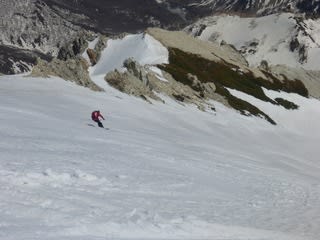 Wonderful terrain.
The upper side was film-crusted, and the lower side had the good corn snow.
Perfect condition.
We keep going.
My friend made good trails.
Breathtaking beautiful terrain.
We keep going to Yari-Onsen spa.
This valley is usually covered with debris in this season, but it was not today.
Taking bath in Yari-Onsen spa.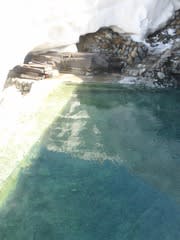 The water was not so hot as the rain seemed cooling down.
It is nice to have beer in the spa, but I have to drive on the way back.
Coffee time instead.
We relaxed for almost one hour.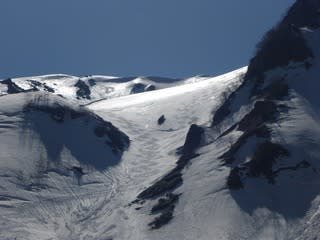 The terrain we skied was shining beautifully.
Annoying hike to Obinata kor.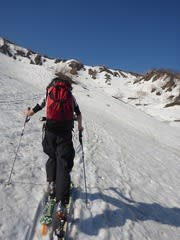 We reviewed the spa and the terrain we skied.
The skiing from the kor was not bad.
Today we earned 2100m elevation. This route was not unusual, as we did several times before, but tough enough.
Cheers to the good and large terrain and the good snow.