Ski day 66 at Gassan
Powder, what a surprise!
66th day for this ski season, 34 days for powder, 18 days for backcountry, telemark for 14 days Gassan 7:40-12:40
Gear: Teneighty GUN+GARMONT RADIUM
Kita-Gassan 14:50-15:40
Gear: Pocket Rocket(Telemark)+GARMONT ENER-G
We went to Tohoku area for the later half of the Golden Week..
We tended to arrive there earlier, and we left Hakuba at 8pm.
It started raining.
The forecast said the weather was not so good in the later half of the week.
We slept at the parking area, Gassan.
We woke up and found it was raining.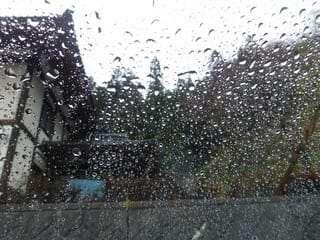 But the powder snow was expected in Gassan mountain area.
We parked cars at the several locations, and headed to Gassan.
As expected the road was covered with the snow.
I wanted to change my snow tires before the tour, but I had no time to do.
It was good not to change.
As I saw the snow fall at Sarukura four days ago
, there is still a chance to snow in the Golden Week.
Powder snow in Gassan, what a surprise!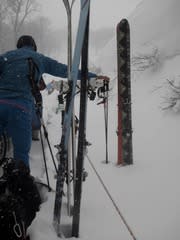 The lift was stopped due to the strong wind. We hiked up.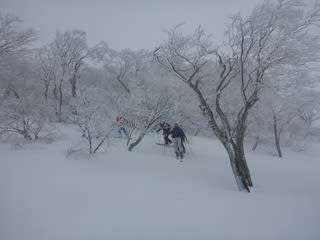 It's been four years since last time I came here.
We arrived at the end of the lift and took a break at a cabin.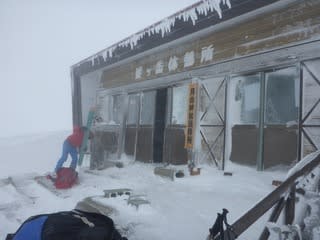 The vending machines were working, which we did not expect.
The can was not hot, but still warm enough.
I have never seen a vending machine was working on the top of the mountain we hiked.
After the break we skied.
The lift service was resumed.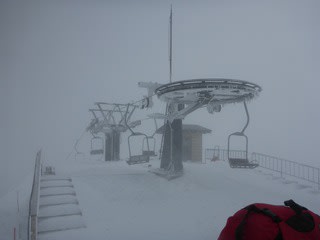 It was the powder snow at the ski resort.
We skied below the resort.
Nice powder snow.
We hiked back to the resort.
Then tried the other route.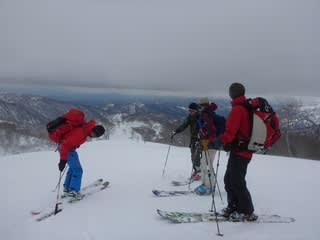 Nice terrain.
Nice beech tree runs.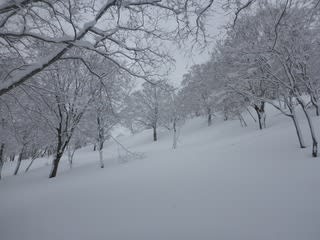 But the later half was covered by the stop snow.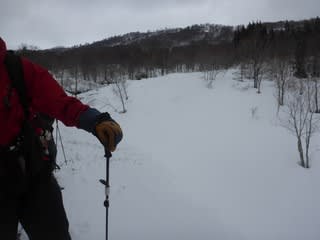 The snow was very sticky.
We walked down to the car we dropped.
We enjoyed the powder snow.
Now this was supposed to be the end of the tour today, but the guide offered us to ski more in front of the spa.
He said there was a good terrain of slushy snow.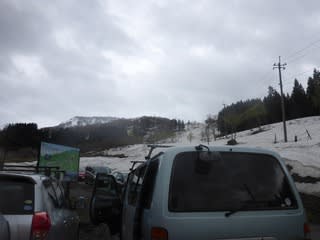 We chose telemark skies and hiked very quickly.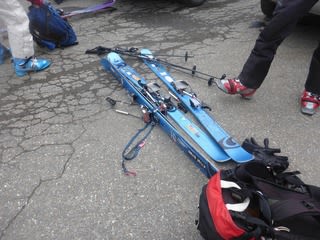 Typical Japanese backyard hills.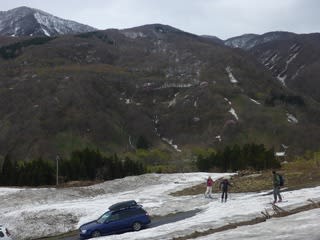 The terrains were dirty, but
It was good to enjoy the slushy conditions.
After the spa we went to the Sakata port, and had fish bowl.
Nice skiing and nice seafood. This is the essence of the Tohoku tour.
Continue to
Ski day 67 at Chokaisan-Haraikawa