Cycling-Day 1-Matsumoto Craft Fair(125.7km)
We went to Matsumoto Craft Fair by bike.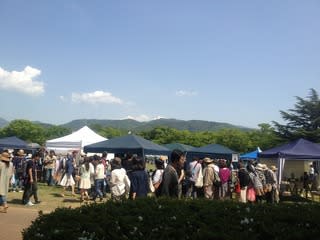 Day 1, 117days for cycling, total distance 8,326.1km, total climb 114,602m
Matsumoto Craft Fair 10:25-18:30
Distance today 125.7km, climb 800m, duration 5:44, avg speed 21.9km/h, burned 2,909kcal
Gear: GIANT DEFY COMPOSITE SE
Lovely day in Hakuba.
The three summits were beautiful.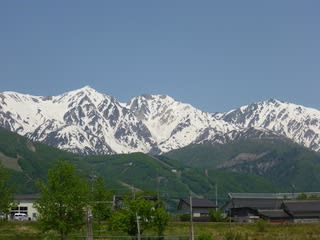 The snow melted fast since two weeks ago.
This is the first day in this season for a ride.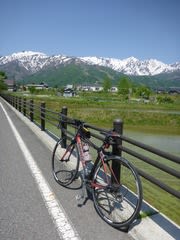 Today our wives want to go to Matsumoto Craft Fair. Husbands will go there by bike.
As today is the first day in the season, I was much behind my friend, who commutes by bike every day.
The river side road on Takase River.
We enjoyed the fresh air of May.
We arrived in Matsumoto in 2 hours and half.
It was the lunch time.
Delhi, a famous curry restaurant in an old Japanese style house.
Very nice.
We arrived at Agata-no-mori, where the fair is held.
Very busy in such a sunny day.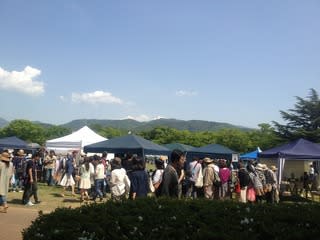 We looked around for a while.
I was exhausted on my SPD shoes.
Wives were still buying something. Husband left to home at 15:30.
We saw Matsumoto castle on our back.
Keep running.
The follow wind helped us on Olympic road.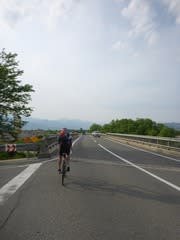 Afterward the wind became against. The road was ascending. I slowed down and was very tired.
Aoki Lake. I was totally exhausted to come back here.
Today the pace was faster than my own as my friend led me.
The outbound was in the good pace, but I was exhausted on the way back.
As an excuse, today is the first day.
I am using Runkeeper on my iPhone for the log, but I could not upload the activity.
I have not used for several month, and the setting may be changed.