Ski day 59 at Funakoshi
Crusty and stop snow.
59th day for this ski season, 30 days for powder, 15 days for backcountry, telemark for 12 days
Funakoshi 10:00-15:00
Gear: Pocket Rocket(Telemark)+GARMONT ENER-G
Sunny day in Hakuba.
Today we hike up from Tsugaike.
We got the ropeway at 10am.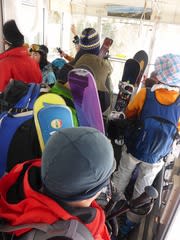 Start hiking at 10:17.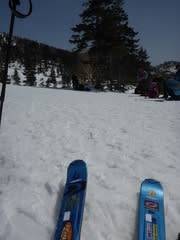 We hike up to Funakoshi peak through Tsugaike Natural Park.
We arrived at the peak 2471. It is very windy, but we still go on.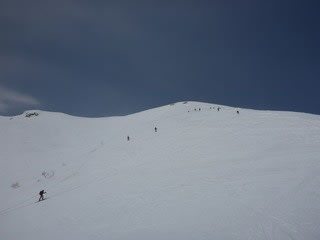 The terrain became steep and it was difficult to get off. We had to hike up to the ridge line.
Arrived at the ridge line at 12:41.
It's been 2 hours and half so far.
It's been since
last October to be here
. I took a picture to the same angle then.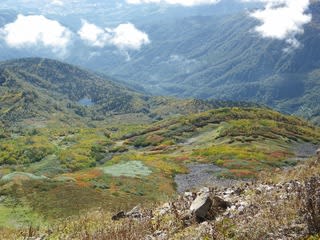 We tried to get to Funakoshi peak, but it was very icy from here.
Crampons are required.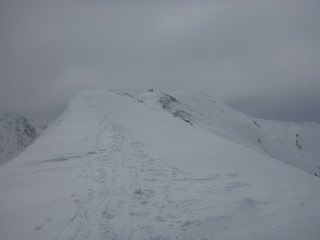 We did not bring crampons today. We probably go down here, but the snow at Funakoshi looks nice.
My climbing bindings did not work very well today, and I came up here without climbing support.
The terrain looked good, but..
It was very crusty.
Although there was some snow slide, the snow at Funakoshi peak looked very good.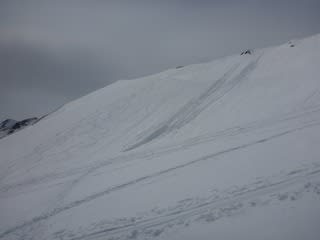 Then the snow became better corn snow.
but I got my legs by a monster "leg-grabber" and crushed twice.
(the leg-grabber is actually the wet snow which stops a skier or a snowboarder. He/she feels as if their legs were grabbed by someone from the ground)
I could avoid the leg-grabber on alpine skies, but not on telemark.
We came back to the base at 3pm.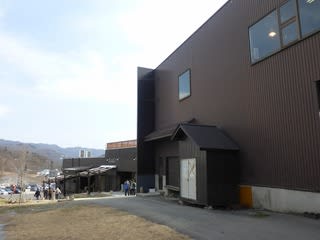 Late lunch at Tako Taco.